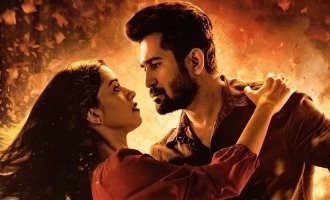 Vijay Antony turns into a romantic hero with his new film!
ravik1910, 1 month ago
0
1 min

read
12
Vijay Antony is a music composer turned actor, director and editor in Tamil cinema. He cemented his place as a bankable actor with the blockbuster 'Pichaikkaran'. He's usually seen in thrillers, comedy flicks and commercial entertainers. Now, the hot news is that Vijay Antony has turned into a romantic hero for the first time.
Vijay Antony announced his new film and revealed the first look poster today, which is touted to be a love drama. The bilingual flick is titled 'Romeo' in Tamil and 'Love Guru' in Telugu. Vijay Antony is pairing up with actress Mirnalini Ravi in this movie, directed by Vinayak Vaithianathan and bankrolled by Vijay Antony under his new production banner Good Devil.
The first look poster shows the lead pair in love amid flower petals and fire. Romeo/Love Guru is aiming for a grand release in the Summer of 2024, announced by the production house. The technical team comprises Barath Dhanasekar as the music composer, Farook J Basha as the cinematographer and others.
Sharing the first look poster, Vijay Antony wrote, "Thank you to the people who wanted to see me as a romantic hero, as well as to the press and media friends. Your request has been granted. ROMEOâ¤ï¸ Summer 2024" (sic). The movie's first look is now doing rounds on the internet.
எனà¯à®©à¯ˆ romantic hero-வாக பாரà¯à®•à¯à®• ஆசைபà¯à®ªà®Ÿà¯à®Ÿ மகà¯à®•à®³à¯à®•à¯à®•à¯à®®à¯, பதà¯à®¤à®¿à®°à®¿à®•à¯à®•à¯ˆ மறà¯à®±à¯à®®à¯ ஊடகவியல௠நணà¯à®ªà®°à¯à®•à®³à¯à®•à¯à®•à¯à®®à¯ நனà¯à®±à®¿ðŸ™
உஙà¯à®•à®³à¯ வேணà¯à®Ÿà¯à®¤à®²à¯ பலிதà¯à®¤à¯à®µà®¿à®Ÿà¯à®Ÿà®¤à¯ðŸ˜Š
ROMEOâ¤ï¸
Summer 2024#Blockbuster@GoodDevilOffl @mirnaliniravi pic.twitter.com/4x7hzUhm3v

— vijayantony (@vijayantony) August 16, 2023
Related posts