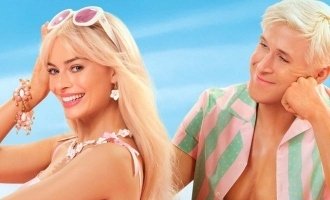 Barbie Continues to Shine: A Box Office Sensation and Record-Breaker
ravik1910, 1 month ago
0
2 min

read
14
Greta Gerwig's fantasy comedy film, "Barbie," is sweeping the box office with an unstoppable momentum. Starring Margot Robbie and Ryan Gosling as the iconic Barbie and Ken, this much-discussed movie has not only broken records but also outshined Christopher Nolan's "Oppenheimer," surpassing it by a remarkable margin.
The triumph of Barbie doesn't stop at its victory over Oppenheimer. Not only has it crossed the $1 billion mark in worldwide box office collections, but it has also surpassed Nolan's "The Dark Knight," becoming Warner Bros.' highest-grossing domestic release ever. A recent milestone achieved by Barbie is overtaking The Dark Knight's $536 million domestic collection with an impressive $537.5 million earned domestically.
Barbie's global box office tally has reached $1.2 billion, and its success shows no signs of slowing down. The film is on track to potentially surpass the $574 million collection of Universal's "The Super Mario Bros. Movie," solidifying its place as the highest-grossing domestic release of 2023. With its sustained performance, Barbie might even aim to exceed Mario's global record of $1.35 billion, making it the year's top-grossing worldwide release.
As Barbie remains at the number-one spot for four consecutive weekends, it has achieved the distinction of being the fastest Warner Bros. film to enter the prestigious $1 billion club. There's a chance it could surpass "Harry Potter and the Deathly Hallows: Part 2," which stands at $1.34 billion, becoming the studio's all-time highest-grossing worldwide release.
Adding to its impressive list of achievements, Barbie holds the title of the highest-grossing movie directed by a female. The film's success has also brought financial rewards for its key players. Margot Robbie, who stars in and produces the film, is set to earn around $50 million in salary and bonuses. Greta Gerwig, the director, will also receive her share of bonuses as she embarks on new projects like the Netflix adaptation of "The Chronicles of Narnia."
Related posts