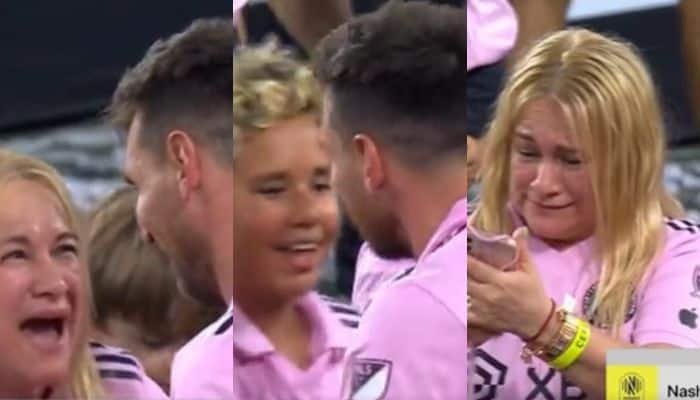 Lionel Messi, the Argentine football legend, captured hearts once again as he led Inter Miami to a thrilling victory in the Leagues Cup final against Nashville SC. While Messi's on-field brilliance was on full display, it was his heartwarming interactions with his teammates' families that stole the spotlight. In a heartwarming and emotional video, Messi can be seen making teammates' families cry tears of joy as they met the football icon after their historic win.
All of Messi's teammates family members are taking pics with him _ pic.twitter.com/dQRfgi6FLe
— MC (@CrewsMat10) August 20, 2023
Also Read: Another Change In ICC ODI World Cup 2023 Schedule? Hyderabad Cricket Association Request BCCI To Shift Matches – Details Inside
The Thrilling Victory
Messi's extraordinary talent shone through as he scored a stunning goal in the 23rd minute of the game, giving Inter Miami an early lead. However, Nashville fought back valiantly, and the match eventually ended in a 1-1 draw after regular time, leading to a dramatic penalty shootout.
Goalkeeper Drake Callender emerged as the hero of the penalty shootout, making crucial saves and ultimately converting the decisive penalty to secure Inter Miami's first-ever Leagues Cup title. Messi's contribution to the victory was undeniable, having scored nine goals in six matches since his arrival at the Florida-based club.
A Touching Tribute
In the midst of the celebration, Messi paid a touching tribute to former Inter Miami captain DeAndre Yedlin, who had handed over the captain's armband to Messi upon his arrival. After the victory, Messi invited Yedlin to wear the armband one more time and join him in lifting the coveted trophy. This gesture showcased the camaraderie and unity within the team, with Messi acknowledging the respect and admiration he had earned from his teammates.
The Viral Video
What truly captured the hearts of football fans worldwide, however, was a viral video that surfaced after the victory. The video captured the emotional reunions between Messi and his teammates' families. In this heartwarming footage, family members can be seen shedding tears of joy as they embrace Messi, overwhelmed by the momentous occasion.
The video quickly spread across social media platforms, garnering millions of views and shares. The emotional resonance of the footage highlighted not only Messi's prowess on the pitch but also his role as a unifying force within the team and a source of inspiration to those around him.
Related posts