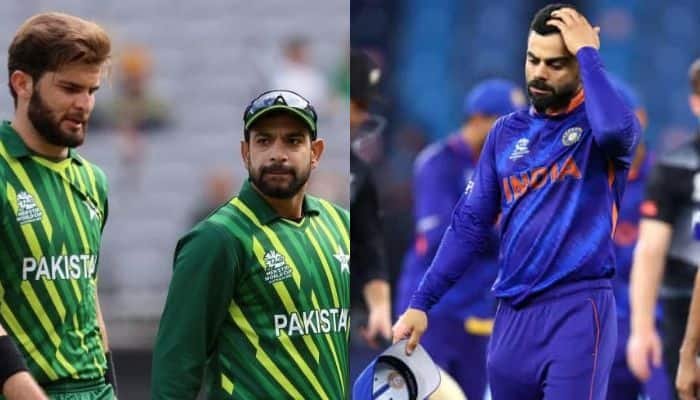 In a scintillating display of fast bowling prowess, Pakistan's Shaheen Afridi, Naseem Shah, and Haris Rauf left the cricket world in awe with their exceptional performance against Afghanistan in the 1st ODI of the series. Pakistan fans are not only celebrating their team's comprehensive victory but also expressing their confidence in these fiery pacers ahead of the much-anticipated clash with India.
The Lethal Trio's Triumph:
Scns after today's match#AFGvPAK pic.twitter.com/vMzINwieln
— _____ ____ _ (@ClairrDeLuNe__) August 22, 2023
Top notch captaincy by Babar perfect field placings and timely bowling changes Full credit to the bowlers for the way they bowled perfect lines and length totally bambozled the oposition Just the batting needs to click and gain their mojo back for these turning wickets #AFGvPAK
— Farjaad Murtaza Talpur (@Farjaad12) August 22, 2023
Cause you know yes I know#AFGvPAK #PakistanCricket pic.twitter.com/ltS9oHXs6M
— Adil khan (@Adilkhantweets) August 22, 2023
Congratulations @TheRealPCB _!
What a great performance by our bowlers ___. Outstanding innings by Imam and shadab..
Well bowled Roufi, unbelievable spell _. Well done Boys!
Bad luck Bobby _ insha'Allah will score _ in the next game.#PakvsAfg #BabarAzam_ #AFGvPAK pic.twitter.com/43MbEcxYbi
— Shahid (@Shahidameen2526) August 22, 2023
— Malik Hassan__ (@malikhassan0071) August 22, 2023
Uff Shaheeno Ye kya kiya Namak Haram Afghaniun ky khilaaf _#PakvsAfg #PAKvAFG #AFGvPAK pic.twitter.com/75t6TEO1Cw
— N A _ A M (@_MNUH_) August 22, 2023
Pakistan's victory, secured by a massive 142-run margin, was largely attributed to the magnificent bowling performance by Shaheen Afridi, Naseem Shah, and Haris Rauf. Afridi's devastating swing, Shah's precision, and Rauf's fiery pace made life miserable for the Afghan batsmen. Collectively, they demolished Afghanistan's lineup, bundling them out for a mere 59 runs.
Pakistan fans flooded Twitter with jubilant reactions following their team's impressive win and the stellar performance of the pace trio. Notable tweets included Ali Abdullah's celebration of Pakistan's 142-run victory, Ifsha Rashid's labelling of the win as "phenomenal," Muhammad Kamran's heartfelt congratulations to the team, Faizan Ahmed's recognition of Pakistan's potential to become the No. 1 ranked ODI team, and Sitarah Anjum Official's praise for Shaheen Afridi, Naseem Shah, and Haris Rauf, describing them as a formidable force of pace and skill.
The Road Ahead: India vs. Pakistan Clash
Fans Anticipate a Showdown As Pakistan fans revel in this victory, they can't help but look ahead to the colossal showdown with arch-rivals India in the Asia Cup 2023. With the trio of Shaheen Afridi, Naseem Shah, and Haris Rauf in their prime, Pakistan supporters are optimistic that these fast-bowling sensations will replicate their magic against India, adding a new chapter to the storied rivalry.
The performance of Shaheen Afridi, Naseem Shah, and Haris Rauf in the 1st ODI against Afghanistan has ignited the hopes and aspirations of Pakistan fans. As they prepare to face India, the excitement surrounding these remarkable pacers is palpable. If they continue to deliver such exceptional performances, Pakistan's journey in the Asia Cup 2023 promises to be an exhilarating one, with these three pace maestros leading the way.
Related posts