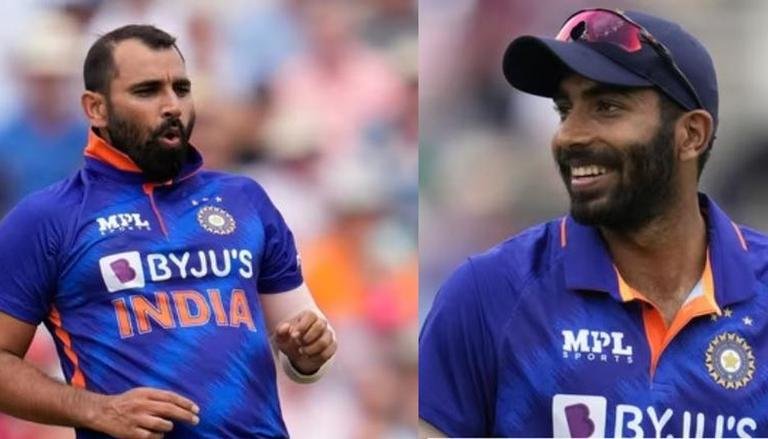 Last Updated:
Ahead of the start of the Asia Cup 2023 and the ICC ODI World Cup 2023 that is looming, an ex-cricketer has named a player who needs to be given preference.
Jasprit Bumrah and Mohd. Shami (Image: AP)
The squad that has been picked for the Asia Cup 2023 has somewhat cleared the air regarding who is in the scheme of things for the World Cup and who is set to get axed. However, the selection headache will come back at the time when a balanced side of 11 members will be needed to be ushered on the field. Several opinions regarding the possible XI for the World Cup have been dropping and now an ex-cricketer has also given his say on who needs to be in the team at all costs.
3 things you need to know
Asia Cup is scheduled to begin on August 30, 2023
The ICC ODI World Cup 2023 will start from October 5, 2023
Team India has received a major boost in the form of KL Rahul and Shreyas Iyer's comeback from injury
Also Read | 'All the focus is on him': Shubman Gill comments on his partnership with Rohit Sharma
Aakash Chopra names Mohammed Siraj as the preferred third pacer for CWC
Aakash Chopra, who is quite frequent on his YouTube channel and talks everything related to cricket, has backed Mohammed Siraj as the premier choice for the third pace option. According to Chopra, Siraj has better statistics than Jasprit Bumrah and Mohammed Shami, thus, needs to be a preferred choice for the upcoming ICC ODI World Cup 2023. He further said, Siraj should make the cut over Shardul Thakur or Prasidh Krishna.
"Mohammed Siraj is brilliant. He has had a short career. 43 wickets in 24 matches at an average of 20.7 and an economy rate of 4.78. They are better than both Bumrah's and Shami's numbers. In Asia, his average becomes 16.57 and economy rate is 4.51," Aakash Chopra said in a video shared on his YouTube channel.
Chopra suggested that Siraj is well ahead of Krishna and Siraj as there should not be any debate for his place in the XI.
"You cannot play anyone. You will have to play Siraj only. His numbers in Asia are better than his numbers outside Asia. So, people who were talking about whether Shardul Thakur or Prasidh Krishna can be played instead of Siraj, you cannot play anyone. You will have to play Siraj only. You should play him," Chopra added.
Also Read | Team India Players Take Grueling Yo-yo Test Ahead Of Asia Cup, Kohli Scores 17.2
Selectors want to deepen the batting
The selection of Axar Patel and Shardul Thakur in the squad gives the impression that the Ajit Agarkar-led selection committee wants a deeper batting line-up. Both Patel and Shardul have showcased their ability with the bat in the past at the international level, but will compromising on a wicket-taking spinner will pay dividends or not, is what will be answered in the next three weeks. What do you think?
Related posts