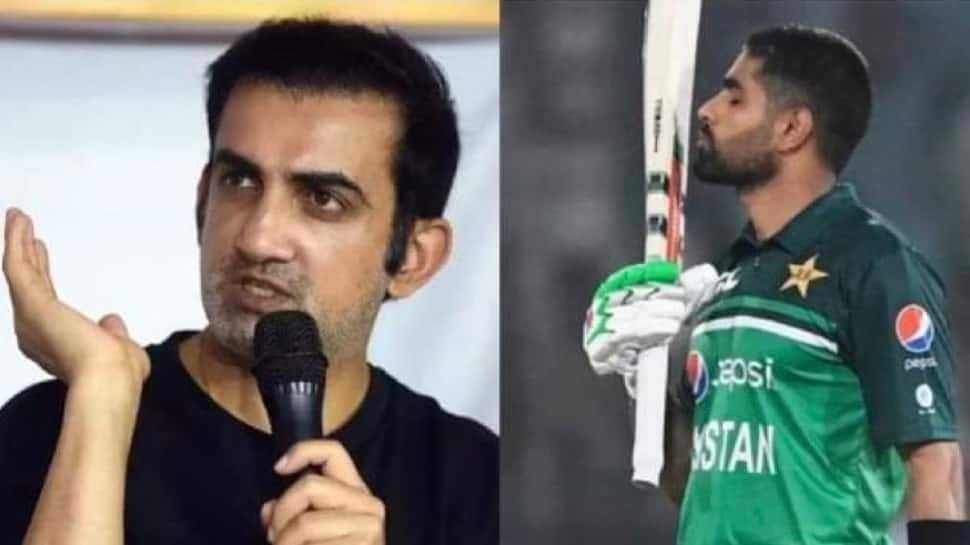 Former India cricketer Gautam Gambhir was all praise for Pakistan captain Babar Azam for his exceptional batting form across all formats. Babar is in the top 5 rankings in all the lists off ICC across all formats. He recently scored 151 runs against Nepal but Gambhir expressed that doing such a thing against India will not be an easy task with the likes of Mohammad Siraj, Mohammad Siraj and Jasprit Bumrah ready for the clash.
"Babar Azam doesn't need to give any message. He has given a message in the 104 matches he has played. If you can score 19 centuries in 104 matches, I believe he will be in the top two or three players in all formats. So he doesn't need to give a message," Gambhir said on Start Sports.
"However, it will be a good contest. He will be tested against the Indian fast bowling. You will get to see an Indian attack after a long time, where all three bowlers (Jasprit Bumrah, Mohammad Shami and Mohammed Siraj) can test Babar Azam properly," he added.
Pakistan skipper Babar Azam threw light on the off-field relationship he has had with India's stalwart batter Virat Kohli ahead of the enthralling clash between Pakistan and India on Saturday.
For the past few years, Kohli and Babar have been setting new batting standards in the world of cricket. Last month, Virat admitted that he has always held a lot of regard as well as respect for the top ODI batter.
The highly anticipated clash between India and Pakistan is on the cusp of unfolding right in front of the world in the 50-over format for the first time since 2019. Now both batters are just less than 24 hours away from adding a new chapter in their on-field rivalry. On the eve of the clash between the Asian Giants, Babar talked about the relationship and the influence Virat has had since the moment he met him.
"The debate that has been going on should be left to them. I don't want to comment on it. Everybody has their point of view. There should be mutual respect. I have been taught that we should respect our seniors. I have learned a lot from him. I have told in a lot of interviews that in 2019 I talked to him and he helped me a lot. He has been helpful," Babar said in the pre-match conference.
Babar further went on to talk about how demanding the Asia Cup has been and their attempts to find the perfect balance in the squad before the much-awaited World Cup commences.
"We cannot say that the Asia Cup is a small tournament and the best teams of Asia as well as the best players are also playing. At no point in time, you can take it easy. Preparation is definitely for the World Cup but our current focus is on the Asia Cup," Babar added.
"We are not relaxing at any point we are trying to go either way best we are trying to focus on the cricket that lies ahead of us. We are trying different combinations and we are trying to give our balanced side the most number of opportunities before the big event," Babar signed off saying. Both teams will square off at the Pallekele International Cricket Stadium on Saturday. (With ANI inputs)
Related posts