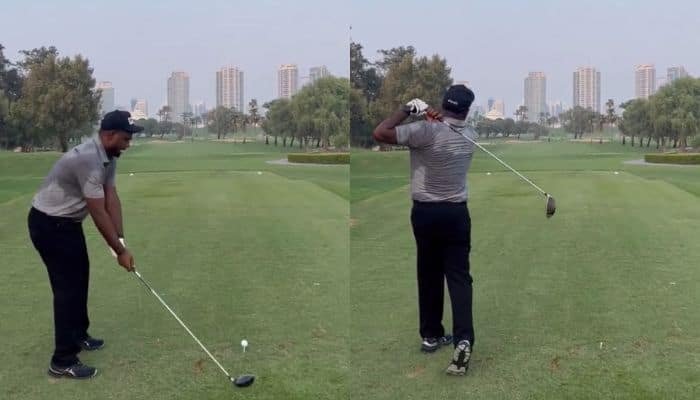 In an unexpected turn of events, Sanju Samson, the talented Indian batter, has taken a break from the ongoing Asia Cup Super Four in Sri Lanka, making headlines not for his cricket but for a different sport altogether. A viral video of the cricketer playing golf in Dubai has set social media abuzz, as Samson finds himself away from the intense cricketing action. Let's delve deeper into this intriguing story.
Sanju Samson playing Golf at Dubai. pic.twitter.com/8fwGKqVHvZ
— Johns. (@CricCrazyJohns) September 10, 2023
Samson's Unexpected Departure from Asia Cup
Sanju Samson had an unexpected departure from the Indian cricket squad participating in the Asia Cup 2023. Initially included as a backup option for KL Rahul, who was nursing an injury, Samson's role in the tournament was pivotal. However, the situation took a sudden turn when KL Rahul recovered and joined the squad, leading to Samson's release from the team. This decision was confirmed by the Board of Control for Cricket in India (BCCI), marking the end of Samson's stint in the tournament as a travelling reserve player.
The World Cup Snub
While Samson's journey in the Asia Cup was short-lived, his absence from India's 15-man squad for the ICC Men's Cricket World Cup 2023 adds another layer of complexity to his situation. The World Cup, scheduled to be hosted by India, is a prestigious event in the cricketing calendar. Samson's omission from the squad raises questions about his future prospects on the international stage.
Rahul's Return and the Challenge Ahead
As Sanju Samson departs from Sri Lanka, KL Rahul is preparing to step directly into the playing XI. He is expected to replace Ishan Kishan in the lineup for the highly anticipated clash against Pakistan on September 10. Rahul's return is a significant boost for the Indian team, given his crucial role as India's number 5 batter. His successful comeback after a period of injury and rehabilitation showcases his determination and commitment to the team's cause.
Harbhajan Singh's Perspective
Former Indian spinner Harbhajan Singh weighed in on the matter, defending the selection committee's decision to prefer other players over Samson. He particularly highlighted the selection of Suryakumar Yadav for the middle-order role, emphasizing Suryakumar's reliability and ability to anchor an innings—qualities that Harbhajan believes Samson may lack in the limited-overs format.
Rahul's Inspirational Journey to Recovery
KL Rahul's road to recovery from his injury was no easy feat. The injury, sustained during the IPL 2023, required extensive rehabilitation, including surgery. His successful return to the national squad is not just a personal triumph but also a source of inspiration for the entire team as they prepare to face formidable opposition in Pakistan.
Related posts