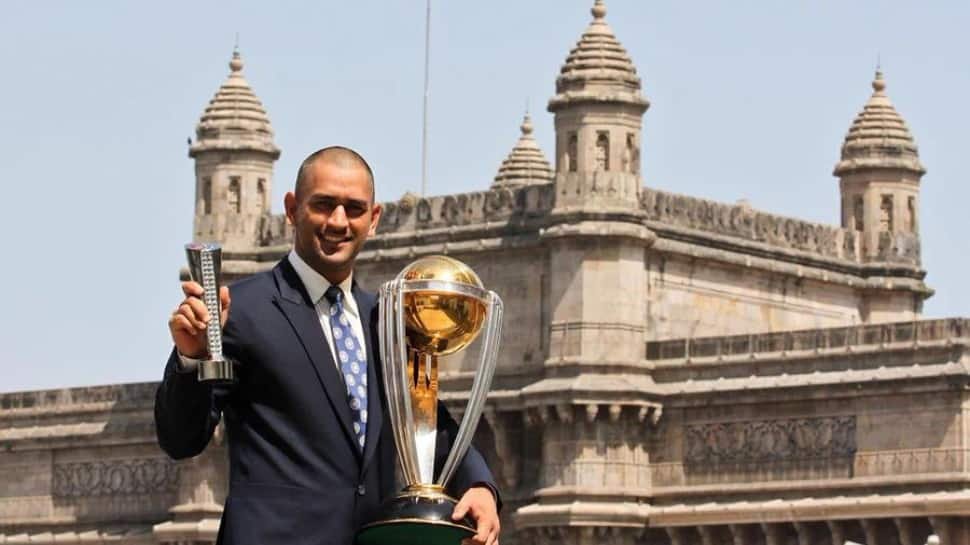 On This Day: MS Dhoni Started His journey To Become India's Greatest Captain
ravik1910, 3 weeks ago
0
4 min

read
3
The high-profile clash between rivals India and Pakistan in ICC T20 World Cup 2007 marked the start of MS Dhoni's career as a captain. In that match, India managed to tie the game despite posting 141/9 in 20 overs. India won the match later through a bowl-out, which saw players from each side taking an aim at the wickets.
MSD's first outing as a captain was successful as a young Men in Blue captured the inaugural ICC T20 WC title, defeating Pakistan in the final by five runs. Dhoni's cool composure, trust in his young, new-look side and his unusual decisions, like to give Joginder Sharma, who had leaked runs, the final over in the title clash, set the tone for what was to come. (Indian Cricket Team Is Now On Whatsapp As BCCI Makes Big Announcement)
Under his captaincy, India would go on to capture the ICC Cricket World Cup after 28 years in 2011, with Dhoni starring in the final against Sri Lanka with 91* and hitting the winning six. Men in Blue also captured the prestigious ICC Champions Trophy in 2013. Also, it was under his captaincy that India won its first-ever Asia Cup in 15 years back in 2010.
India beat Pakistan in the Bowl-out "On this day in 2007" in the T20 World Cup 2007.

This marks the beginning of MS Dhoni's Era as a captain in cricket history. pic.twitter.com/Xe8NQzHI3g
— Johns. (@CricCrazyJohns) September 14, 2023
From working as a ticket collector at a railway station, MS was India's 'Trophy Collector', winning trophies with ease and confidence never seen before in an Indian captain.
These big triumphs established calmness, unconditional trust in youngsters, positivity and risks as some of the biggest hallmarks of his captaincy.
Careers of many then-youngsters like Rohit Sharma, Shikhar Dhawan, Virat Kohli, Ravichandran Ashwin, Ravindra Jadeja etc., were shaped during the peak of Dhoni's captaincy, which saw him become the only skipper to win all major ICC titles and also guide India to the top of the Test Rankings in 2009.
Dhoni led India in 60 Tests, winning 27, losing 18 and drawing 15. His win percentage of 45.00 saw him surpass Sourav Ganguly and become India's leading Test captain at that time. He was bettered by Virat in the coming years with a win percentage of 58.42 per cent and many landmark overseas wins.
The burden of captaincy did not affect MS in the longer format as he scored 3,454 runs as a captain in 60 matches at an average of 40.63, with five centuries and 24 fifties in 96 innings. His best score was 224 as a captain.
He also led India in 200 ODI matches. Out of these, he won 110, lost 74, tied five and 11 ended in no-result. His win percentage of 55.00 per cent makes him one of the best ODI captains ever.
ODIs were Dhoni's strongest format, both as a captain and player. In 200 matches he led India, Dhoni scored 6,641 runs at an average of 53.55 in 172 innings. He scored six centuries and 47 innings, with the best score of 139. His strike rate was 86.21.
Dhoni led India in 72 T20Is, winning 41 of them, losing 28, tying one and two ended in a no-result. He has a win percentage of 56.94.
As a captain, he scored 1,112 runs in T20Is at an average of 37.06 and a strike rate of over 122. However, he could not score a half-century, with his best score being 48*.
Overall, Dhoni led India in 332 matches, the most by a captain in international cricket. Out of these, he won 178, lost 120, tied six and 15 ended in a no-result. His win percentage as a captain is 53.61. This combined with the trophies he has won, makes him India's most successful captain ever.
In these 332 matches, he scored 11,207 runs in 330 innings at an average of 46.89 and a strike rate of over 76. He scored 11 centuries and 71 fifties as a captain, with the best score of 224. Safe to say, the burden of captaincy did not affect MS at all.
His success at the international level spilled over to franchise cricket as well. He represented and led Chennai Super Kings (CSK) and Rising Pune Supergiant (RPG) in the Indian Premier League (IPL). Dhoni won five IPL titles with CSK in 2010, 2011, 2018, 2021 and 2023. He also won two Champions League T20 titles with CSK in 2010 and 2014.
Despite the immense responsibility as a captain, Dhoni's batting was not affected a bit while playing for his franchises as well. In 250 IPL matches, he has scored 5,082 runs at an average of 38.79 and a strike rate of 135.92. He has scored 24 half-centuries, with the best score of 84*. He is the seventh-highest run-scorer in IPL history.
Related posts