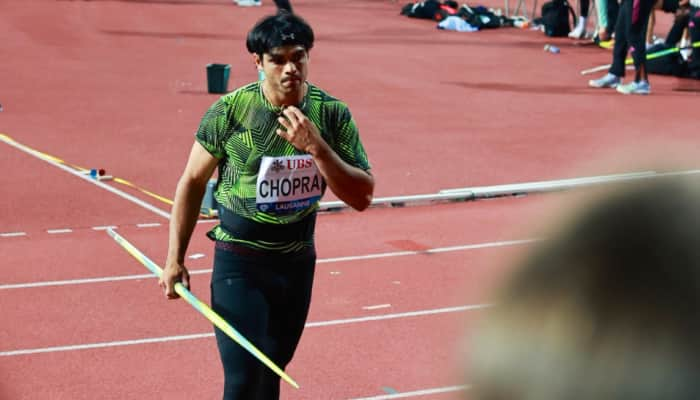 Neeraj Chopra. (Source: Twitter)
Neeraj Chopra will be back in action after a two-week break. He will be playing the 2023 Diamond League final. The match will be played at Eugene, Oregon, USA. Neeraj has recently converted his World Athletics Championship medal from silver to gold and will be itching now to defend the Diamond League title. The recently-crowned world champion will look to clinch his second consecutive Diamond League Trophy. Along with Chopra, multiple world champions will compete for the ultimate glory in the Diamond League Final.

Chopra qualified for the men's javelin final after finishing third in the standings and the top-6 field for the Final includes Jakub Vadlejch (Czech Republic), Oliver Helander (Finland), Andrian Mardare (Moldova), Anderson Peters (Grenada), and Curtis Thompson (United States of America). Coming at the back of winning their maiden World 100m titles, Sha'Carri Richardson and Noah Lyles will look to continue their red-hot form on home soil. Richardson will look to become the first U.S. woman to win a Diamond League 100m season title since Carmelita Jeter in 2011.
Coming back to Neeraj, he has been in tremendous form this season. He won the Doha Diamond Legaue to start off the season and then came the gold medal at Worlds. Neerah wull be looking to breach the elusive 90m mark in USA. He has achieved pretty much everything in men's javelin but the 90m mark. Neeraj has also stated that he is also looking to finally go past the 90m mark.
Keep Dreaming big and keep Training Hard & Smart______ _ pic.twitter.com/OMg47RvYi9— Neeraj Chopra (@Neeraj_chopra1) September 11, 2023
When is the Diamond League 2023 Final Men's Javelin?
The men's javelin final in Diamond League 2023 will be played on September 17.
Diamond League 2023 Final, Eugene: Men's javelin throw entry list
Neeraj Chopra (India), Oliver Helander (Finland), Andrian Mardare (Moldova), Anderson Peters (Grenada), Curtis Thompson (United States), Jakub Vadlejch (Czech Republic)
Where to watch Diamond League 2023 Final live in India
Live streaming of the Eugene Diamond League 2023 Final will be available on Jio Cinema. The men's javelin event will be telecast live on the Sports18 TV channel in India.
When does the Diamond Legaue 2023 final take place in IST?
Neeraj Chopra's match starts at 12:50 AM IST (Sunday).
Related posts