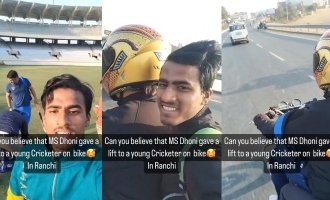 Viral Video: MS Dhoni Takes a Young Cricketer from Ranchi on an Unforgettable Motorcycle Spin
ravik1910, 2 weeks ago
0
2 min

read
4
Mahendra Singh Dhoni, who was leading the Indian cricket team at one time and is famous for his illustrious career, recently led the Chennai Super Kings to their fifth IPL title in 2023.
In a heartwarming moment, Dhoni could be seen giving a ride on his bike to a young cricketer. The video went viral, and we can see how humble Dhoni is and how much he loves bikes as well. In the video, we can see that initially he was standing near the ground before riding pillion on Dhoni's Yamaha RD350 bike.
They hailed him for his decision and maintained that they respect him as he follows a very down-to-earth approach. Dhoni, being the most available cricketer even after becoming one of the busiest people in the cricketing world, has been liked by most, if not all, people around the world.
He is enjoying a holiday with family in the USA following his retirement from international cricket. He earned media glare when he played golf with former President Donald Trump at Trump National Golf Club in Bedminster, United States.
A viral video recently caught Dhoni interacting with a fan during an autograph session. In the clip, Dhoni went around with long hair and a beard and signed miniature bats for a person on his request while also requesting that he return the box of chocolates that that person was holding amongst them. Personality endearing has always made Dhoni one of the most lovable figures, not just as a player but off the cricket pitch too.
Nothing to see here. Just #MSDhoni living his best semi retired life and a very lucky young cricketer who got a lift on his #YAMAHA RD350. ðŸï¸ #Jharkhand #Dhoni #msd #mahi #ranchi pic.twitter.com/EipYkBptsU

— Jharkhand Jatra (@JharkhandJatraa) September 15, 2023
Related posts