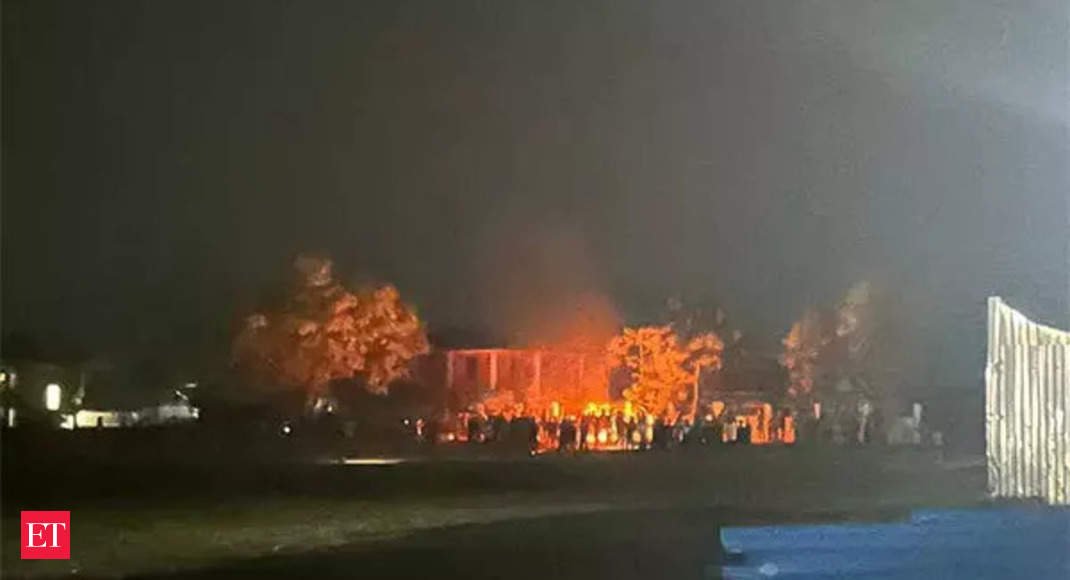 Manipur relaxes curfew in Churachandpur for few hours to allow people buy essentials
ravik, 3 weeks ago
0
3 min

read
2
Synopsis
In the statement, the Governor said, "Violent incidents and arson that took place in the state during the last few days disturbed mutual brotherhood and peace. Some brothers and sisters of the state also died suddenly in these unfortunate incidents. I appeal to all of you, being Governor of this state, that according to Manipur state's excellent co-existence, brotherhood and mutual cooperation, all of you should maintain brotherhood, dispel the feeling of fear and insecurity and cooperate with the people around you."
People on Sunday came out of their houses to buy essentials as the curfew was lifted following the Manipur government's decision to relax curfew restrictions in violence-hit Churachandpur district, where violence was first reported on May 3, for three hours (from 7 am to 10 am) to allow people to buy essential items such as food and medicines.
The curfew was imposed under Section 144 of the CrPC.
Earlier on May 3, owing to tension over the move to protect forests in the face of resistance from illegal immigrants and also the High Court's direction to include Meitei in scheduled tribes, the district administration imposed a complete curfew in violence-hit Churachandpur in Manipur.
However, a total of 23,000 civilians have been rescued till now in Manipur and shifted to safe shelters, some in army camps as the army brought Churachandpur, Moreh, Kakching and Kangpokpi districts under its "firm control", an official said on Sunday.
"Total 23,000 civilians have been rescued till now and were moved to own operating bases and military garrisons, with the help of Army and Assam Rifles," the official said.
The past 24 hours also witnessed Army significantly enhancing surveillance efforts through aerial surveillance, movement of UAVs and redeployment of Army Helicopters within Imphal Valley.
The situation continues to remain tense in the northeastern state after clashes broke out on May 3 in the Churachandpur district between tribals and members of the majority Meitei community during a tribal solidarity march that was organised to protest against the Meitei community's demand for Scheduled Tribe (ST) status.
Protesting mobs set ablaze vehicles, houses, schools, churches and commercial properties. The violence has already claimed around 30 lives so far.
However, with the heavy deployment of the army, the security situation in Manipur's Churachandpur, KPI, Moreh and Kakching has been brought under control.
State governor Sushri Anusuiya Uikey on Saturday appealed to the people in the state to maintain brotherhood and dispel the feeling of fear and insecurity, said an official release from the governor's office.
In the statement, the Governor said, "Violent incidents and arson that took place in the state during the last few days disturbed mutual brotherhood and peace. Some brothers and sisters of the state also died suddenly in these unfortunate incidents. I appeal to all of you, being Governor of this state, that according to Manipur state's excellent co-existence, brotherhood and mutual cooperation, all of you should maintain brotherhood, dispel the feeling of fear and insecurity and cooperate with the people around you."
Earlier, Manipur Chief Minister N Biren Singh conducted a meeting with the representatives of the 'Coordinating Committee on Manipur Integrity (COCOMI)' in the wake of the violence in the State, informed CM in a tweet.
Political parties including Congress, NPF, NPP, CPI (M), Aam Aadmi Party and Shiv Sena attended the meeting chaired by Biren Singh himself.
Taking to Twitter CM N Biren Singh wrote "In light of the prevailing situation in Manipur, held a meeting with the representatives of 'Coordinating Committee on Manipur Integrity (COCOMI)' to highlight the crucial role of civil society organisations in bringing peace in the state at this hour."
…moreless
Related posts