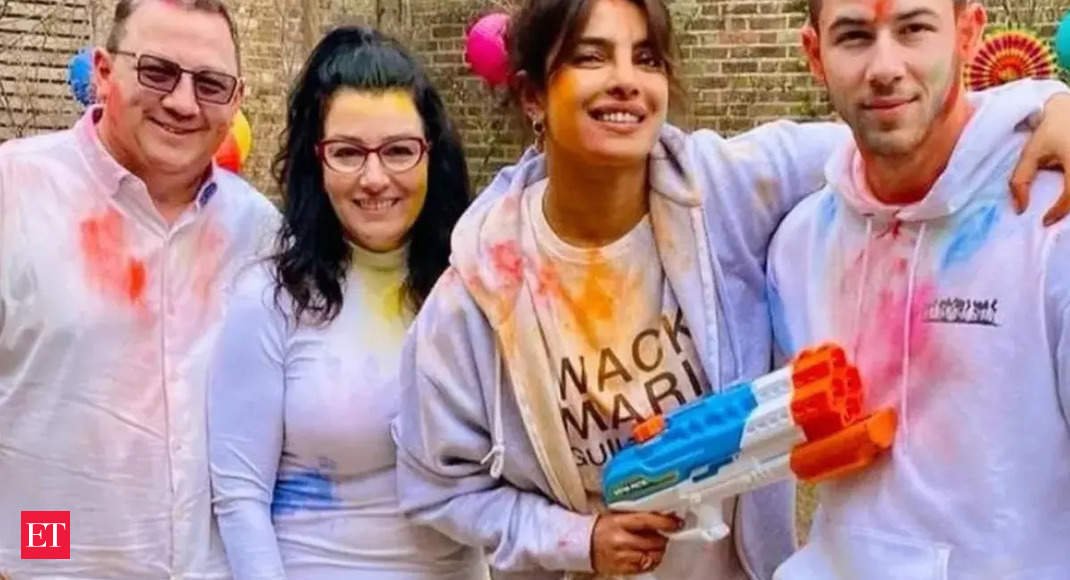 Priyanka and Nick celebrate Holi with Priety Zinta, 'lots of food and dancing'
ravik, 2 weeks ago
0
2 min

read
5
Synopsis
Priyanka Chopra and Nick Jonas recently celebrated Holi in their LA mansion with Preity Zinta and her Husband. While Priyanka dropped a throwback picture, Priety Zinta shared pictures of celebrations at Priyanka's LA mansion.
Priyanka Chopra recently shared a throwback photo in her Instagram story, showing Nick attacking her with colours and wished her fans a happy Holi. The image revealed Nick chasing Priyanka, ready to burst a water balloon on her, while Priyanka had a startled look on her face, yelling as she ran away. Both Nick and Priyanka were drenched and covered in colours. The pictures and videos showed the family enjoying the festival in their green lawn, with kids, men and women running around and throwing colours.
Preity Zinta and her husband Gene Goodenough also celebrated Holi at Priyanka Chopra and Nick Jonas' home in Los Angeles. The actor shared pictures and videos of them having a blast with colours smeared on their faces and enjoying a day of dancing and yummy food. Preity Zinta wrote in the caption that she was filled with joy as she celebrated Holi with Priyanka Chopra and Nick Jonas. She thanked the couple for hosting them and that they had a wonderful time.
Priyanka Chopra and Nick Jonas celebrate their traditions and cultures in a unique way. Every year around Diwali, Nick posts a special message to his fans, wishing them a grand and joyous celebration. Similarly, Priyanka also shares pictures of her Christmas and Thanksgiving gatherings.
Priyanka Chopra and Nick Jonas tied the knot in a lavish wedding ceremony in Rajasthan in 2018. Last year, the couple joyfully welcomed their daughter, Malti Marie Chopra Jonas, via surrogacy. Meanwhile, Priyanka has been busy filming the Amazon Prime Video series Citadel.
FAQ

1-Which are the latest Bollywood movies of Priyanka Chopra?
The Sky Is Pink (2019), The White Tiger (2021) are the latest Bollywood movies of Priyanka Chopra.
2-Which actor will Priyanka Chopra be starring alongside in Citadel?
Priyanka Chopra will star with Richard Madden in the upcoming Amazon Prime series, Citadel.
Disclaimer Statement: This content is authored by a 3rd party. The views expressed here are that of the respective authors/ entities and do not represent the views of Economic Times (ET). ET does not guarantee, vouch for or endorse any of its contents nor is responsible for them in any manner whatsoever. Please take all steps necessary to ascertain that any information and content provided is correct, updated, and verified. ET hereby disclaims any and all warranties, express or implied, relating to the report and any content therein.
…moreless
Related posts