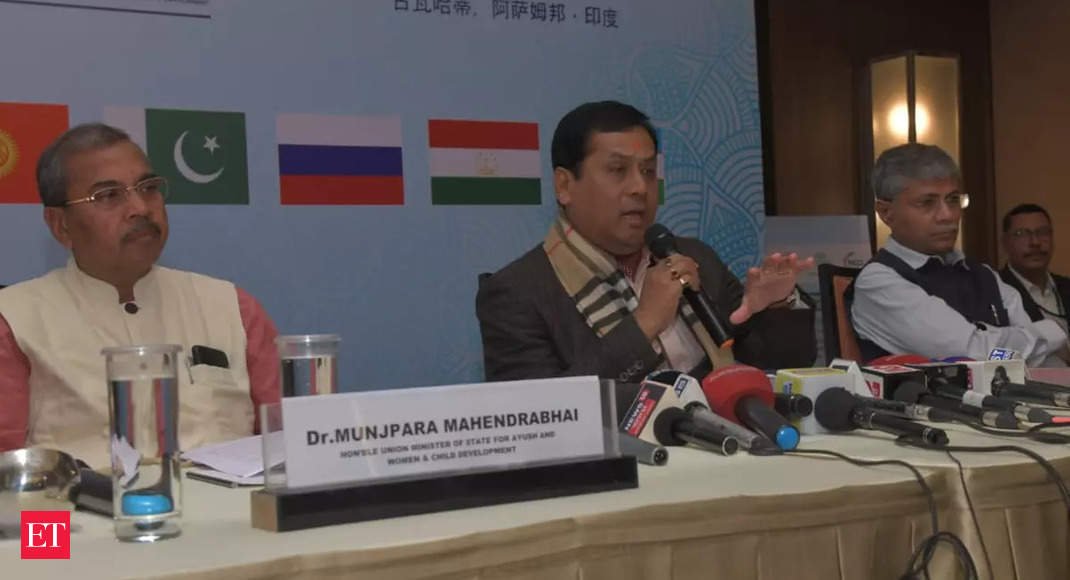 Sarbananda Sonowal to inaugurate first B2B global conference & expo on traditional medicine at Guwahati tomorrow
ravik, 2 weeks ago
0
4 min

read
7
The first 'SCO B2B Conference and Expo on Traditional Medicine' came to a successful end as it created a platform for buyers and sellers from different countries to explore trade potential to serve the needs of the people. An incremental trade interest of over Rs 590 crores was generated during the two days of intense meetings among the buyers and sellers at the conference.
This first-of-its-kind conference & Expo under the SCO initiative was inaugurated by the Union Minister of Ports, Shipping & Waterways and Ayush, Sarbananda Sonowal on 2nd March, 2023 in Guwahati, Assam. More than 150 delegates from 17 countries attended the two-day conference and four-day Expo, which ended in sunday.
Speaking on occasion, the Union Minister, Sarbananda Sonowal, said, "It is a moment of great realisation that this wonderful initiative has borne fruit with trade interest of more than Ra 590 crores generated during the event. While this marks the immediate success of the Expo, the conference also laid the foundation for further interaction & expansion of cooperation among the states under the SCO initiative. I must thank PM Narendra Modi ji at this point as his vision brought this concept of expanding the horizon of traditional medicine among the member states of SCO, leading to the event's successful hosting.
While the scope of trade in the Ayush market remains buoyant, the event helped expand its horizon to a wider international audience with a noble aim to provide an enriched quality of life with the help of traditional medicine. This is a huge shot in the arm for the Indian Ayush market as this event provided the platform to further the trade potential among the SCO member states for improving the quality of lives of people."
Under the aegis of the Ministry of Ayush, Invest India conducted B2B meetings in a dedicated B2B lounge at the event with the support of Ayushexcil (Ayush Export Promotion Council). More than 56 exhibitors – who participated in the Expo – and buyers from 19 countries discussed and expressed their interest in trade in traditional medicine. More than 50 one-to-one meetings between buyers and sellers were conducted on day 1 of the conference.
Among the spectrum of traditional medicinal products, the maximum interest was seen in product categories like Ayurvedic medicines, herbal nutraceuticals, Ayurvedic cosmetics etc. Over 75 meetings took place on Day 2 of the event, where participants from India, Tajikistan, Armenia, Uzbekistan, Mongolia, Kazakhstan, Bahrain & Sri Lanka engaged.
The trade interest of Rs 590 crores was received in the B2B meetings from companies like Damaira Pharma, AIMIL Global, Herbal Strategi Homecare, Almaty, Dindayal Industries, Fidalgo Healthcare and many more. The trade interest was received across product categories like Ayurvedic gels & oils, capsules, Ayurvedic hair remedy products, nutraceuticals, Ayurvedic home care and Hygiene & Veterinary products. The industry received as many as 9 Letters of Intent (LOIs).
Sonowal, said, "Under the dynamic leadership of Prime Minister Narendra Modi ji, India remains deeply invested in promoting evidence-based traditional healthcare system with a rich heritage of patient care for thousands of years. The establishment of the WHO Global Centre of Traditional Medicine in Jamnagar, India, is a step in this direction. Hon'ble Prime Minister of India, Shri Narendra Modi, at the SCO summit at Samarkhand on 16th September 2022, has remarked that India will take the initiative for a new SCO Working Group on Traditional Medicine. Our effort through this august conference and Expo is another attempt to work collectively to rejuvenate the proven & rich properties of traditional medicinal practices. With your support & discussions here, we hope & believe that the results will be taken forward to further the reach of traditional medicine in the world for the betterment of humanity."
More than 150 delegates from 17 countries, including India, participated in this event, including high-level delegates such as Health Ministers, official delegates, and foreign buyers from SCO & partner countries. Seventy-five foreign officials and business delegates from 13 countries participated in person. Official delegates from China, Uzbekistan, Kyrgyzstan and Kazakhstan joined virtually through the internet.
The B2B conference witnessed detailed presentations and deliberations from SCO and partner Countries on 'Regulatory Framework for Traditional Medicine' Products and practices, including Pharmacopoeia, Quality assurance and Research. There was deliberation on how to promote Traditional medicine. Sessions like 'Know your buyer' and 'B2B meetings' for discussing specific product-wise, export & import opportunities and deeper economic partnerships helped garner interest for market access across SCO countries. The event aimed to unlock trade opportunities in traditional medicine amongst SCO & partner countries. The Ayush and Foreign Traditional Medicine industries/exporters/importers showcased their products & services at the Expo.
The discussion aimed at understanding trade patterns and market scenarios from Pharma & drug manufacturers' points of view. It was expected that the showcase of products of native importance & popularity, opportunity for trade, and discussion on innovation would foster an environment for deeper cooperation and economic partnerships with broader market access among the SCO countries.
Related posts