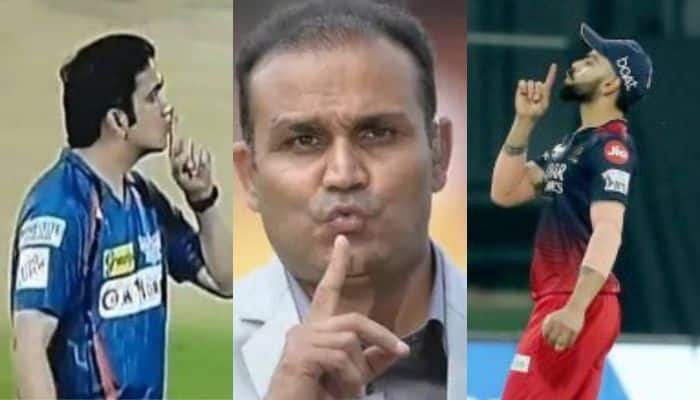 Virat Kohli vs Gautam Gambhir: Virender Sehwag Suggests Ban On Players Involved To Stop On-Field Fights
ravik, 4 weeks ago
0
3 min

read
3
Virender Sehwag, former Indian cricketer and one of the best opening pairs with Gautam Gambhir, has urged Virat Kohli and Gambhir to behave better after their aggressive spat during an IPL 2023 match. Sehwag has reminded both cricketers about the responsibility they have as icons in Indian cricket and how their actions can influence millions of young fans in the country.
Sehwag was unaware of what happened after the match and was surprised by the chaos on social media the next day. He believes that the loser should accept defeat and the winning team should celebrate, and there was no need for Kohli and Gambhir to engage in a verbal attack. He suggests that if both players keep their status in mind, they would limit such incidents.
Another angle of the Virat Kohli vs Gautam Gambhir argument and Naveen Ul Haq having some with King Kohli too. #IPL2023 pic.twitter.com/gVLQXdNXsI
— Farid Khan (@_FaridKhan) May 1, 2023
"I switched off the TV once the match got over. I had no idea about what happened after the match. The next day when I woke up, I saw a lot of chaos on social media. What happened wasn't right. The loser should quietly accept defeat and walk away and the winning team should celebrate. Why did they need to say anything to each other? I always say one thing, that these guys are icons of the country. If they do or say anything, millions of kids follow them and probably think 'If my icon has done this, I would too'. So if they keep these things in mind, they would limit such incidents," Sehwag said on Cricbuzz.

The Board of Control for Cricket in India (BCCI) has imposed a 100% fine on both Kohli and Gambhir, but Sehwag feels that stricter actions should be taken to prevent such incidents from happening in the future. He believes that if the board decides to suspend players for crossing the line, such incidents could become a lot less frequent. The IPL has a history of heated altercations, and Sehwag suggests imposing heavier action might put a leash on such incidents.
"If the BCCI decides to ban anyone, then maybe such incidents will happen rarely or not take place at all. Such incidents have happened several times in the past so it's better to do whatever you want to inside the controlled environment of the dressing room. When you're on the ground, these things don't look nice. My own kids can lip-read and they very well understand Ben Stokes. So that is when I feel bad. If you're saying such things, if my kids can read it, others can too and tomorrow they will think that if they (Kohli and Gambhir) can say it, so can I," he added.

Sehwag emphasized that these incidents should happen inside the controlled environment of the dressing room. When players are on the ground, they should behave appropriately, as their actions can be viewed by millions of fans. Sehwag even mentions that his own kids can lip-read and understand what players are saying, which is concerning. He believes that if Kohli and Gambhir continue to behave inappropriately, others may think it is acceptable to do so as well.
Related posts