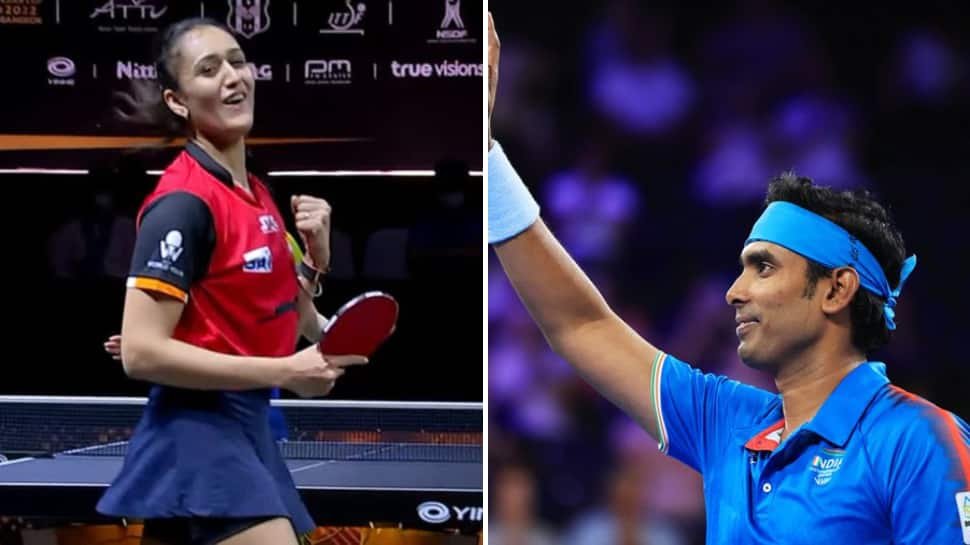 World Table Tennis Championships Finals 2023: Sharath Kamal, Manika Batra To Lead Indian Campaign
ravik, 2 weeks ago
0
2 min

read
2
Achanta Sharath Kamal, the Commonwealth Games winner, and Manika Batra, India's best women's player, will lead the Indian campaign at the World Table Tennis Championships Finals 2023, which begin on Saturday in Durban, South Africa.

There are 11 players in the Indian table tennis team. Sharath Kamal will captain the five-man men's squad, which features Olympian Sathiyan Gnanasekaran and bronze medalists Manav Thakkar and Harmeet Desai from the Asian Games 2018. Manush Shah is also included in the squad, as per Olympics.com. India's top-ranked men's table tennis player is Sathiyan Gnanasekaran, who is rated 51st in the world, followed by Sharath Kamal, who is ranked 53rd. The seasoned pair will also compete in the men's doubles event.
Apart from singles and men's doubles, Sathiyan Gnanasekaran will compete in mixed doubles alongside Manika Batra. The pair is ranked fifth in the world. At the World Table Tennis Championships, India has only won two medals. At the first 1926 event, the men's team and SRG Suppiah in the men's singles both won bronze.

The onus will be on world No. 39 Manika Batra to deliver for India in the women's competition. She will compete in singles and women's doubles partnering Archana Kamath. In women's doubles, the pair is rated No. 12 in the world.

In women's singles, national champion Sreeja Akula (world No. 112), Olympian Sutirtha Mukherjee (world No. 113), and Reeth Tennison (world No. 176) will compete.

The singles competition will begin with a round of 128 while the doubles events will begin with a round of 64. The event will end on May 28. For the first time since the 1939 edition in Egypt, the table tennis world championships are being hosted on the African continent.

Indian squad for ITTF World Table Tennis Championships Finals 2023

-Men's singles: Sharath Kamal, Sathiyan Gnanasekaran, Manush Shah, Harmeet Desai
-Women's singles: Manika Batra, Sreeja Akula, Sutirtha Mukherjee, Reeth Tennison

-Men's doubles: Sharath Kamal/Sathiyan Gnanasekaran, Harmeet Desai/Manush Shah

-Women's doubles: Manika Batra/Archana Kamath, Sreeja Akula/Diya Chitale

-Mixed doubles: Sathiyan Gnanasekaran/Manika Batra, Manav Thakkar/Archana Kamath
Related posts