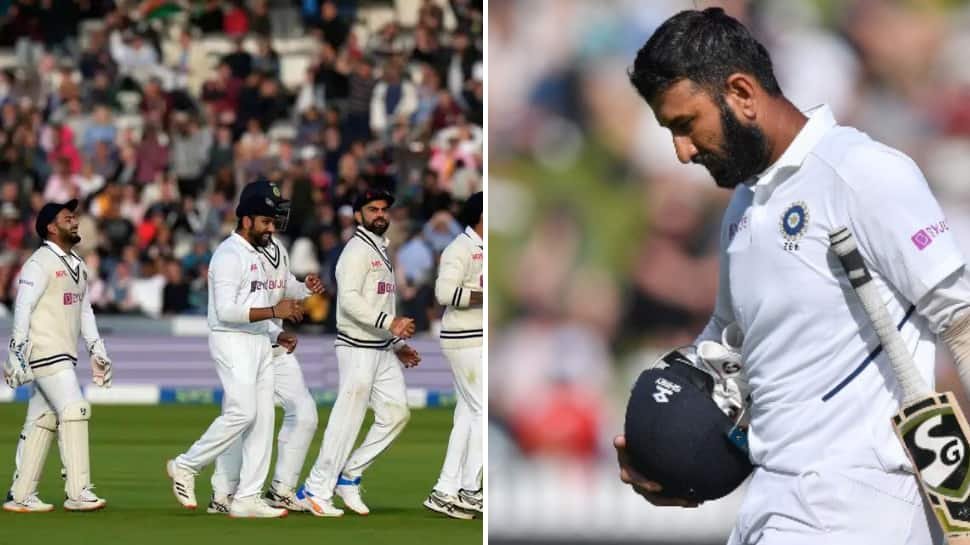 After playing more than 100 Test matches and scoring over 5,000 runs in modern day Test cricket for Team India, one will surely feel frustrated after getting dropped from the side. Same has happened with Indian batter Cheteshwar Pujara who disclosed that he did get frustrated with being dropped out of the Indian Test cricket team after playing for India in more than 100 red-ball games for the side.
Pujara last played in the World Test Championship (WTC) final against Australia, but was not given a spot for the West Indies tour in the new World Test Championship cycle.
"There have been ups and downs in the last few years and it tests you as a player because having played say more than 90 Test matches, when I got dropped, I still had to prove myself, I still had to prove that I belonged there. Its a different type of challenge," Pujara said in The Final Word podcast as quoted by ESPNcricinfo. (Asia Cup 2023: 'We Have Rohit Sharma, Ishan Kishan, Shubman Gill…,' Says Ajit Agarkar On Shikhar Dhawan's Absence In Squad)
"Sometimes you do get frustrated, even if you have to prove yourself after 90 Tests and five-six thousand, whatever number of runs I had scored, its not easy," he further added.
Notably, Pujara was the second-highest run-scorer for India in the 2021-23 WTC cycle where he scored 928 runs at an average of 32.00. Virat Kohli was the only player ahead of him with 932 at 32.13. However, the Test format specialist did not perform well in the WTC final as he played forgettable knocks of 14 and 27 runs.
"Sometimes it plays around with your ego. Having been successful at the international level for so many years, there are still doubts – are you're good enough. And if you have to prove yourself again and again, [you wonder] whether it is worth it," Pujara added. (Watch: 'Hopefully Rohit Sharma, Virat Kohli Can Roll Their Arms Over,' India Captain's Hilarious Reply To Reporter Goes Viral)
The Indian batter has been dropped from the side twice in 18 months. Earlier, he was excluded from the squad for the 2021-22 tour of South Africa. To re-claim position in the team, Pujara is busy playing domestic and national level cricket.
Recently, he scored 133 runs in the second innings for West Zone against Central Zone in the Duleep Trophy while unbeaten centuries against Northants (106*) and Somerset (117*) in the One-Day Cup for Sussex.
"I enjoy playing cricket for Sussex, so when I score runs here, it gets noticed back home," Pujara said. "That is not the reason why I play for Sussex. I play for Sussex because I enjoy playing cricket here. But the amount of runs I score here or in domestic cricket back home, it always helps me getting back into the team," he said.
Pujara said that in his cricketing career, he has been put under pressure for many times but he just tries to play for the team.
"In my cricketing career, I have been put under pressure so many times where I've lost my spot in the team. But you just try and play for the team. You don't try and play for your spot," Pujara said.
"I would keep it very simple because if you play for your spot, you're just another selfish cricketer who is just being there in the playing XI, playing for the spot but not contributing to the team."
"If I am not good enough contributing to the team, I am happy sitting at home rather than scoring. As an example, If I get out on 20 or 30 it is not that as a batsman you get out [on purpose], but if you score another 20-30 more and end up scoring a fifty and India doesn't go on and win the Test match, is that going to be helpful for the India team? No."
"It might be helpful for me as an individual but I never have that thought process. I am someone who will think that I should be good enough to win games for the India team. Not just try to survive and be part of the playing XI. If you want to be in the team, you should want to make a difference. Not just be in the team," Pujara was quoted as saying by ESPNcricinfo. (With ANI inputs)
Related posts