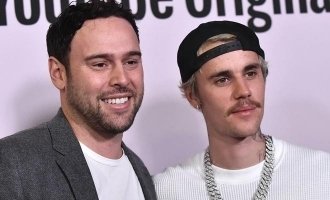 Are Justin Bieber And His Manager Scooter Braun Splitting? Deet Inside
ravik1910, 1 month ago
0
1 min

read
13
Justin Bieber and Scooter Braun's long-standing partnership isn't shaking apart despite earlier rumors suggesting a split may be in the cards. Speculation among the media and fans alike has arisen due to reports that Justin Bieber and his manager of over a decade might be ending their 17-year relationship.
According to sources cited in Puck News, Justin Bieber and Scooter Braun haven't engaged in conversation for many months, which hints at a potential professional parting of ways. While the details surrounding the situation remain under wraps, it's been rumoured that this move might be a part of a broader reorganization Justin Bieber and his wife, Hailey Bieber, are currently going through.
However, spokespersons from both Bieber and Braun have moved quickly to stop these rumours. A representative of the duo confirmed that rumours of their breakup are just not true. The media frenzy provoked by such speculations compelled a quick clarification, which ended the circulating rumours right away.
Justin Bieber's relationship with Scooter Braun has been a cornerstone of his career since day one. Scooter's instrumental role in Bieber's rise to superstardom, from discovering him on YouTube to their marks on chart-topping albums, has proved crucial. Rumours had circulated before about Braun and other artists, including Taylor Swift, prior to Bieber getting his professional working relationship with his manager rock solid until now.
As news cycles are measured, it is apparent that Bieber and Braun are committed to going forward with their collaborative efforts by denying rumours that they have split up altogether.
Related posts