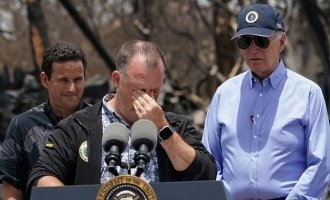 Biden Faces Criticism and Protests During Maui Wildfire Damage Survey
ravik1910, 1 month ago
0
1 min

read
11
President Joe Biden encountered a hostile reception during his visit to Maui on Monday to assess the aftermath of the devastating wildfires that claimed 114 lives last week. Angry protesters, primarily residents from the western part of Maui, greeted him as he departed Kapalua Airport in his motorcade. They waved middle fingers, shouted insults, and held signs reading "no comment."
The protesters criticized Biden for his perceived lack of urgency and empathy in responding to the disaster. Despite delivering a prepared speech praising federal efforts, locals expressed dissatisfaction with the assistance they received.
As he headed toward the historic downtown of Lahaina, Biden saw signs expressing frustration with messages like "NO COMMENT,†"REALLY $7,†"ACTION SPEAKS LOUDER THAN WORDS,†and "FJB.†These sentiments were also reflected in inverted Hawaiian state flags displayed by the crowd.
The massive death toll was attributed to a series of errors by officials, including failure to sound emergency alarms and release water on time. The victims included children, and many remain unidentified, with around 850 people still missing.
President Biden's previous response to the disaster, including his "No comment†statement and refusal to comment about the upcoming trip, had sparked outrage among Hawaiians.
Protester Dean Fuchs voiced their concerns, saying, "When he was asked about the disaster in Maui and he said 'no comment,' that was disrespectful to the people of Maui who have lost so much." The protesters aimed to send a clear message of displeasure with the federal response to the tragedy.
Related posts