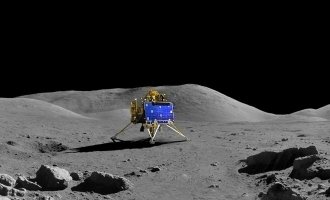 Success of Chandrayaan 3: India is the first country to land on the moon's south pole!
ravik1910, 1 month ago
0
2 min

read
12
The Indian Space Research Organisation (ISRO) is one of the most prestigious space agencies in the world. ISRO has made our country proud on many occasions and its moon mission 'Chandrayaan 1' is a path-breaking achievement in the cosmic world. The 'Chandrayaan 2' project ended up as a failure unfortunately due to various reasons.
ISRO has now scripted history with their latest lunar mission, Chandrayaan 3. It successfully landed on the moon's surface at 06.03 PM IST on August 23 as planned earlier. India is now the first country to successfully land a rover on the moon's south pole. The spacecraft consists of a lander named 'Vikram' and a rover named 'Pragyan' similar to those of the Chandrayaan 2. It will now observe and demonstrate the composition of moon by conducting experiments on the materials of its surface.
Chandraayan 3 was successfully launched from ISRO's launch pad in Sriharikota on July 14th. The spacecraft was inserted into the moon's orbit on August 5 after orbiting the Earth for around 20 days. While the initial stages of de-boosting went fine, the final stage of de-boosting resulted in a different outcome than what was planned. However, ISRO managed to make the soft landing successful today even with a slightly different trajectory.
Chandrayaan 3 is India's second attempt to land a spacecraft on the lunar surface after Chandrayaan 2. Chandrayaan 1 was a mission to orbit the moon and it was a huge success but Chandrayaan 2 failed and crashed on the moon's surface instead of landing. ISRO has learnt from its mistakes in Chandrayaan 2 and bounced back incredibly with the historical victory of Chandrayaan 3.
Marking Chandrayaan 3's iconic soft landing on the south pole of the moon, ISRO wrote on Twitter (X), "Chandrayaan-3 Mission: 'India, I reached my destination and you too!' : Chandrayaan-3 Chandrayaan-3 has successfully soft-landed on the moon !. Congratulations, India! #Chandrayaan_3 #Ch3" (sic). This is now going viral on the internet.
Chandrayaan-3 Mission:
'India🇮🇳,
I reached my destination
and you too!'
: Chandrayaan-3

Chandrayaan-3 has successfully
soft-landed on the moon 🌖!.

Congratulations, India🇮🇳!#Chandrayaan_3#Ch3

— ISRO (@isro) August 23, 2023
Related posts