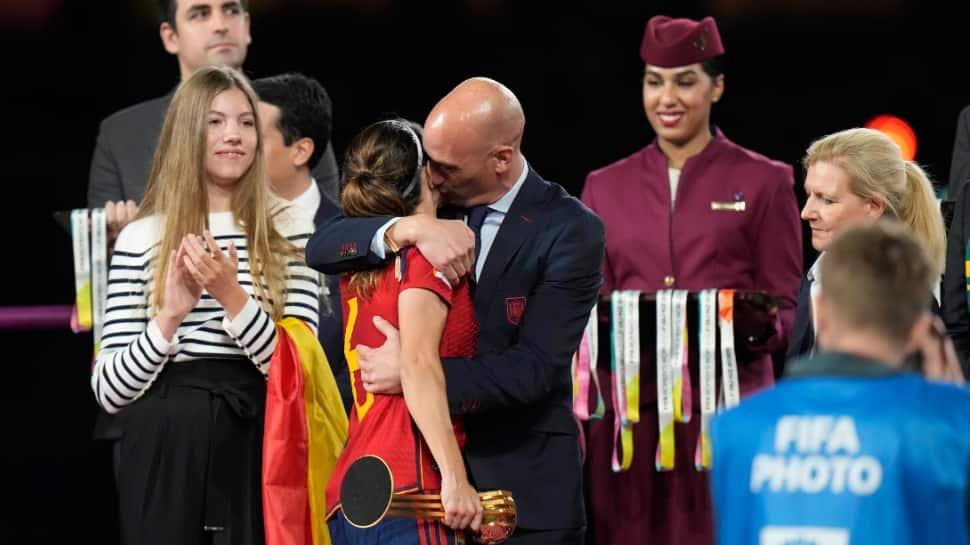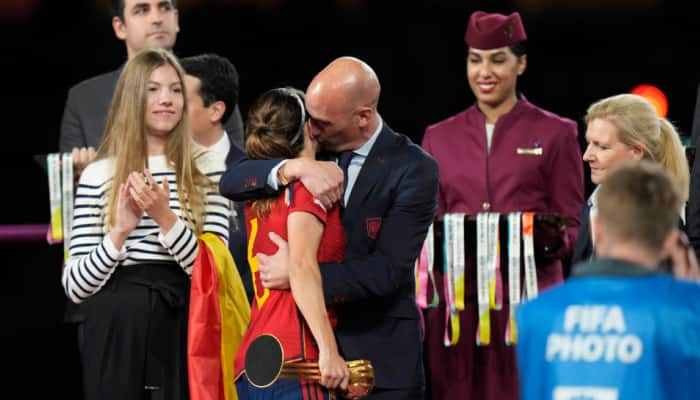 Luis Rubiales, right, hugs Spain's Aitana Bonmati. (Source: AP)
Spain's women's football team won the FIFA Women's World Cup but the celebrations did not last long after one of the players was forcibly kissed by the head of the country's football governing body. Luis Rubiales, chief of Spain Football, allegedly grabbed and kissed Jenni Hermose without her 'consent' and the players have now got together to ensure h apologises and leaves his post. The World Cup-winning squad have now issues a joint statement saying that they will now play for Spain again if Luis is not removed as Spain Football's chief. The video which is going viral on internet shows that Rubiales kissed almost all members of the team at the podium.
Rubiales, who has been the chief of Royal Spanish Football Federation for five years now, is refusing to leave, calling himself the victim of 'social assassination'. "I will not resign," he told members of the federation, adding that 'I will fight this to the end'. He has also accused players and critics of showing 'false feminism'.
RFEF chief Luis Rubiales to quit over kiss scandal, report says#Spain #LuisRubiales #RFEF #JenniHermoso #Foorball #Soccer #NewsUpdates #BNN #Dailynews pic.twitter.com/9O9kPaopsQ
— Nitish Verma (@nitsonnet) August 25, 2023
At the same time, Hermose issued a statement, saying that she has zero tolerance towards such behaviour. She has slammed Luis for his 'sexist' act and then defending himself after the accusation. She wrote in her statement, "..I feel obliged to report that My. Luis Rubiales' words explaining the unfortunate incident are categorically false and part of the manipulative culture that he himself has generated. Hermose added that at no time, was the 'kiss ever consensual'.
Hermose said that she felt vulnerable, and a victim of an impulse-driven, sexist act. The footballer added that she did not make a joint-statement right after the incident happened as she did not want to take away the special moment from the teammates. She also said that RFEF has constantly asked to make a statement to justify the actions of Rubiales. In the end of the statement, she has made it clear to never play again for Spain if the current leaders remain at the Federation.
Víctor Francos, president of the National Sports Council and secretary of state for sports, told Cadena SER radio that the government is going to act on the matter and has activated all the mechanisms to take appropriate measures, reported The New York Times. But it is also true that the government does not hold much power to make changes in the football Federation.
These controversies are not new in Spain's women's game as very recently, 15 players had revolted against Jorge Vilda, the coach, complaining about his outdated training methods and controlling behaviour.
Related posts