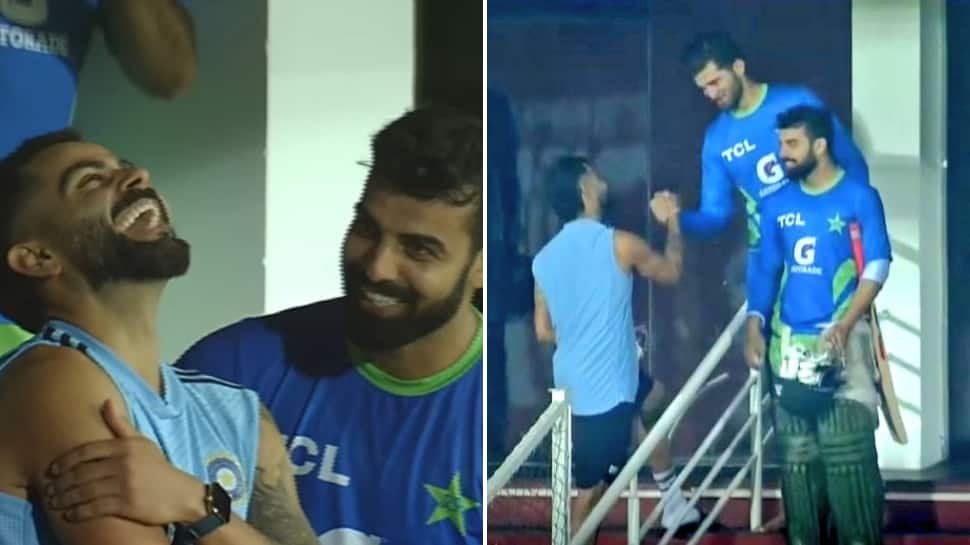 Virat Kohli met Pakistan cricketers Shadab Khan, Shaheen Shah Afridi and Haris Rauf ahead of the blockbuster clash between India and Pakistan on September 2. Both team players were practicing on the eve of the encounter when Kohli was seen having a chat and laugh with the Men in Green team members in Kandy.
The most recent meeting between India and Pakistan occurred at the 2022 T20 World Cup, when Virat Kohli scored an unbeaten 82 to secure India's victory at the renowned Melbourne Cricket Ground.
Watch the video here:
Pakistan and Indian players are meeting eachother sharing mutual Respect#BabarAzam #ViratKohli #AsiaCup2023 #PAKvIND pic.twitter.com/uWcDaOJ0IW
Shaharyar Ejaz (@SharyOfficial) September 1, 2023
Team India and Pakistan don't get to play each other very frequently, but when they do, the term "high-octane clash" hardly scratches the surface and every match is greatly anticipated.
Cricketing fans from around the world wait with bated breath for the dream India-Pakistan clash. Yet another chapter to this storied rivalry is all set to be added when India takes on Pakistan at the Asia Cup on September 2.
Recently, the games between Afghanistan and Pakistan have become spicier on the pitch and nastier off it, but the history – both cricketing and otherwise – and the quality of the players make the Pakistan vs India clash probably the greatest rivalry in international cricket. Because they rarely play each other these days, Emotions run high, stadium tickets are sold out, vendors profit handsomely and the contest's outcome frequently overshadows background.
For the first time in several months, India is entering the competition with a full-strength team. They finished a camp on the outskirts of Bengaluru in Alur and will be confident in the line-up, with the likes of Shreyas Iyer and Jasprit Bumrah returning to the setup.
Previously, it was a duel between Pakistan's bowlers and India's batters. While that will be the case again this time, with Shaheen Shah Afridi, Naseem Shah, and Haris Rauf putting pressure on Rohit Sharma, Shubman Gill, and Virat Kohli, there is a lot more at stake with the ODI World Cup just over a month away.
"Chasemaster" Kohli's return to form is a great sign for Team India. Kohli has 12898 runs at an average of 57.32. He has 46 ODI hundreds to his name, which is the second most in the format's history
Pakistan opened their Asia Cup campaign on a high note, registering a massive win thanks to centuries from Babar Azam and Iftikhar Ahmed, as well as a clinical bowling performance.
Pakistan skipper Azam is on a roll, having struck a superb 151 against Nepal in the tournament opener. Pakistan on Friday announced that they would field an unchanged XI.
Rain may ruin the excitement of fans for the big clash between India and Pakistan in the Asia Cup 2023 as the weather forecast predicted rainfall on Saturday. On Friday the weather was cloudy and there is no prediction of clear weather for Saturday ahead of the much-anticipated match.
Related posts