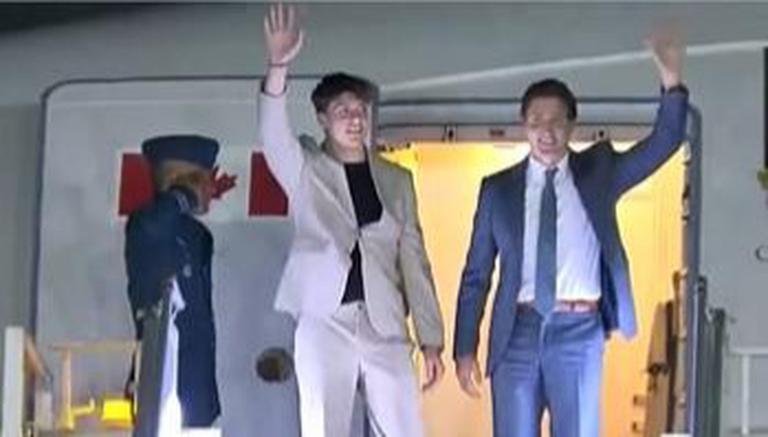 Last Updated:
Canadian Prime Minister Justin Trudeau arrived in New Delhi on Friday to attend the G20 Summit. He was accompanied by his 16-year-old son Xavier James Trudeau.
Image: ANI
Canadian Prime Minister Justin Trudeau arrived in New Delhi on Friday to attend the G20 Summit. The Canadian premier was accompanied by his son 16-year-old son Xavier James Trudeau. The last time Trudeau visited India was in 2018 when he came with his now-estranged wife Sophie Grégoire Trudeau. In August this year, the Canadian premier announced his separation from the first lady insisting people respect his privacy. Shortly after his separation, Trudeau made it clear that the couple's first priority would be their kids.
Shortly after landing at the New Delhi airport, the Canadian premier and his son were received by the Minister of State for Skill Development and Entrepreneurship of India, Rajeev Chandrashekhar. Just like other world leaders, Trudeau witnessed a flawless and traditional Indian dance performance. Weeks before his arrival, the Candian premie expressed his discontent over the fact that Ukrainian President Volodymyr Zelenskyy was not invited to the summit. "I'm disappointed that you won't be included," Trudeau told Ukrainian President Volodymyr Zelenskyy during a telephone conversation.
This isn't the first time 51-year-old Trudeau has blended family with his official duties. Back in 2017, he had delighted his admirers by sharing endearing photos on social media featuring his youngest son, Hadrien, joining him at the office for a "casual Friday treat." The images showcased Hadrien playfully emulating his father's daily activities including running a press conference to checking important emails on his phone.
In an opinion piece for a French magazine, the PM shared his vision for his sons, Xavier and Hadrien, by saying, "Our sons have the power and the responsibility to change our culture of sexism, and I want Xavier and Hadrien – when he is a little older – to understand that deeply. But I want to help them grow into empathetic young people and adults, strong allies who walk through the world with openness, love, and a fierce commitment to justice. I want my sons to escape the pressure to be a particular kind of masculinity that is so damaging to men and the people around them."
— ANI (@ANI) September 8, 2023
Strengthening ties with international partners on agenda
Trudeau's visit to India came days after he participated in the ASEAN summit which was held in Jakarta, Indonesia. On September 7 to 8, Trudeau made a bilateral visit to Singapore. In a statement, the office of the Canadian premier stated that Trudeau aims to strengthen ties with International partners. "At the G20 Summit in New Delhi, India under the theme 'One Earth, One Family, One Future,' the Prime Minister will work with internal partners to tackle today's global crises to build a better tomorrow for people around the world," the statement reads.
Related posts