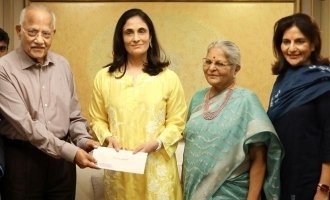 Sun Pictures spends a part of Jailer collection on people's welfare!
ravik1910, 4 weeks ago
0
1 min

read
11
It is a well known story that 'Jailer' starting Superstar Rajinikanth was released last month and became an all-time blockbuster. The action entertainer, which did exceptional numbers at the box office, streams on the streaming platform Prime Video from today.
We already saw Sun Pictures, the producers, gifted Thalaivar, director Nelson and composer Anirudh with cheques and luxury cars. Now, the film house has started donating a part of the movie's collection for the welfare of the needy. Earlier, Mrs Kavery Kalanithi handed over a cheque for Rs 1 Crore to the Chairman of Apollo Hospitals, towards the heart surgery for 100 under privileged children.
Today, Mrs Kavery Kalanithi handed over a cheque of Rs 60 Lakhs to the Adyar Cancer Institute officials towards the treatment of under-privileged patients. This gesture is garnering appreciation from the fans and is going viral. Reportedly, Jailer has grossed close to 600 crores globally. Hope this is a good start and the trend of donating on people's welfare over a film's success continues.
On behalf of Sun Pictures, Mrs. Kavery Kalanithi handed over a cheque of Rs.60 Lakhs to Dr. Kalpana Balakrishnan and Dr. Hemanth Raja, Executive Vice Chairman, Adyar Cancer Institute towards treatment of under privileged patients.#Jailer#JailerSuccessCelebrations pic.twitter.com/8AmpCyRh8C

— Sun Pictures (@sunpictures) September 7, 2023
On behalf of Sun Pictures, Mrs. Kavery Kalanithi handed over a cheque for Rs.1 Crore to Dr. Prathap Reddy, Chairman, Apollo Hospitals, towards heart surgery for 100 under privileged children.
#Jailer #JailerSuccessCelebrations pic.twitter.com/o5mgDe1IWU

— Sun Pictures (@sunpictures) September 5, 2023
Related posts