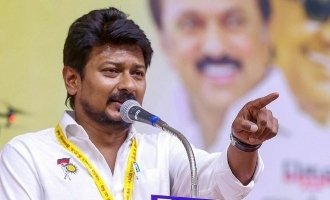 Two leading Tamil directors extend support to Minister Udhayanidhi Stalin on recent controversy
ravik1910, 4 weeks ago
0
1 min

read
8
Former Tamil actor-producer turned Minister Udhayanidhi Stalin has been involved in a controversy after his speech against the Sanathana Dharma that binds a certain section of the people according to him. While politicians predominantly from the ruling central BJP government have been condemning the statement Udhayanidhi has refused to back down and has stood by his words.
Director Vetrimaaran known for his realistic portrayal of social issues in Tamil cinema has extended his support to Udhayanidhi Stalin "The basic thing is that everyone who is born should have equal access to everything which is the birthright. Whatever denies it, in whatever form, it is our duty as free people and freedom-seeking people to resist, set aside and defeat it. We should all stand with Minister Udayanidhi, who has boldly spoken about it, I am with him fully supporting him," he said.
Similarly director Mari Selvaraj who directed Udhayanidhi Stalin's last film 'Maamannan' posted a video of the climax of the film in which the caste obsessed villain Fahadh Faasil is seen kneeling, defeated by even his own dogs deserting him. He quoted the famous Thirukkural that translates to "All beings are the same in birth Diversities of works give each his special worth". Mari Selvaraj addressed Udhay by his character name Adhiveeran and congratulated on his bold statement.
"பிறபà¯à®ªà¯Šà®•à¯à®•à¯à®®à¯ எலà¯à®²à®¾ உயிரà¯à®•à¯à®•à¯à®®à¯ சிறபà¯à®ªà¯Šà®µà¯à®µà®¾
செயà¯à®¤à¯Šà®´à®¿à®²à¯ வேறà¯à®±à¯à®®à¯ˆ யானà¯â€
—-
வாழà¯à®¤à¯à®¤à¯à®•à¯à®•à®³à¯ அதிவீரன௠â¤ï¸â€ðŸ"¥@Udhaystalin sir â¤ï¸ðŸ'™ðŸ–¤ pic.twitter.com/V2XSLj6E6n

— Mari Selvaraj (@mari_selvaraj) September 7, 2023
Related posts