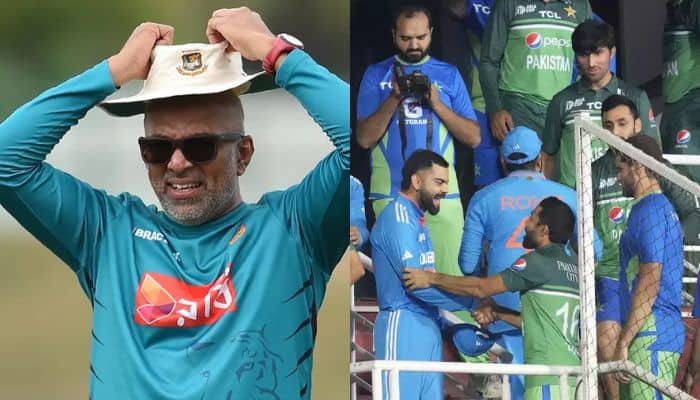 In a surprising twist, the allocation of a reserve day exclusively for the India-Pakistan Super Four stage match in the 2023 Asia Cup has ignited a heated debate. Bangladesh's head coach, Chandika Hathurusingha, made his displeasure known, stating that such an occurrence is unprecedented in any cricket competition.
India vs Pakistan, Asia Cup 2023: While ACC has announced a reserve day for IND vs PAK Asia Cup 2023, there is high likelihood of rain even on the extra day#INDvsPAK #AsiaCup2023 #AsiaCup #AsianCricketCouncil #Colombo pic.twitter.com/ehutHqEkHN
— Theunpopularopinion (@theunp0pu1ar) September 9, 2023
Hathurusingha Expresses Dismay
Addressing reporters ahead of Bangladesh's Super Four game against Sri Lanka, Hathurusingha didn't mince words. He voiced his astonishment, remarking, "Such a thing like this hasn't happened in any competition. We would love to have an extra day as well." Hathurusingha hinted at the lack of consultation with participating teams and the sudden rule change during the tournament, which took everyone by surprise.
Lack of Consultation: BCB Director Reveals
Adding to the controversy, Akram Khan, former Bangladesh captain and current BCB director, disclosed that the Bangladesh Cricket Board had not been consulted when the decision was made. "The decision was taken by ACC, and it was not discussed with us," Khan stated, highlighting the unilateral nature of the reserve day allocation.
Sri Lanka's Coach Shares Concerns
Sri Lanka's head coach, Chris Silverwood, also weighed in on the matter during a pre-match press conference. He expressed his surprise while emphasizing that Sri Lanka has no control over the competition's organization. Silverwood highlighted that the reserve day might only become a problem if it significantly impacts the teams' standings, hinting at the potential for an unfair advantage.
Implications of the Decision: Logistical Challenges
The decision to allocate a reserve day exclusively for the India-Pakistan encounter could create logistical complications for the tournament organizers. In the event of rain affecting other matches, points may have to be shared between two participating sides, potentially leading to a logjam in deciding the finalists. This situation underscores the need for clear and consistent rules for all matches in the tournament.
A Controversial Move with Uncertain Outcomes
The decision to allocate a reserve day solely for the India-Pakistan clash in the 2023 Asia Cup has sparked controversy and raised questions about the fairness and transparency of the tournament's organization. As the Asia Cup unfolds, cricket enthusiasts and experts will closely observe how this unexpected move impacts the competition's outcome and whether it provides an undue advantage to the arch-rivals, India and Pakistan.
Related posts