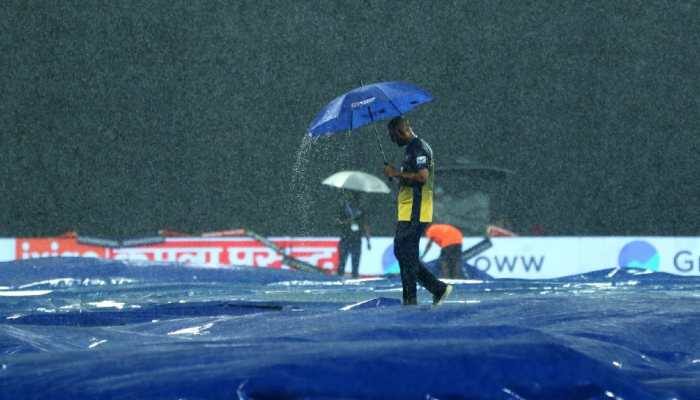 Rain interrupting the Super 4 match of Asia Cup 2023 between India and Pakistan in Colombo. (Photo: ANI)
Rain has been following Team India around ever since they landed in Sri Lanka for the Asia Cup 2023. Their first Group A match against Pakistan was washed out at the Pallekele International Stadium in Kandy on September 2 and their second Group A match at the same venue was also interrupted by rain on September 4.
Indian cricket team's first Super 4 match against Pakistan also needed two days to finish – India winning by 228 runs on Reserve Day on Monday. The wet weather is not likely to abate in Colombo any time soon as there is prediction of rain once again for Tuesday for Team India's second Super 4 match against Sri Lanka at the R. Premadasa Stadium in Colombo.
According to the MET department, there is 34 per cent chances of even thunderstorms on Tuesday afternoon for the India vs Sri Lanka clash. There is 90 per cent chance of rain throughout Tuesday with 60 per cent chance of rain around the time toss takes place at 3pm IST.
There will be 92 per cent cloud cover over Colombo in the afternoon with humidity around 77 per cent. By evening, the temperature will drop to around 27 degrees from 30 degrees but humidity will go up to 84 per cent with 96 per cent cloud cover expected.
Check Colombo weather for India vs Sri Lanka Asia Cup 2023 Super 4 HERE…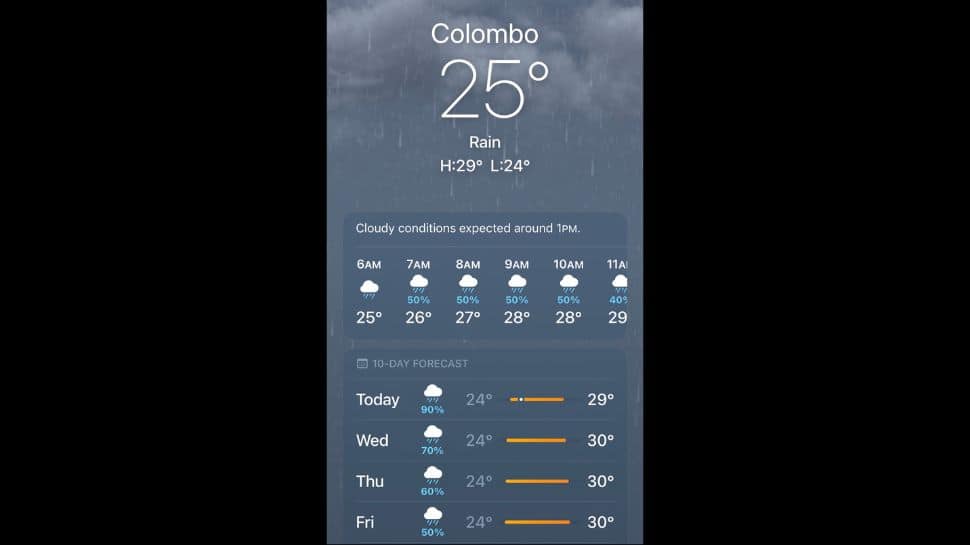 The Asian Cricket Council (ACC) have made no provision of 'Reserve Day' for any of the Super 4 matches apart from the India vs Pakistan fixture. So if the India vs Sri Lanka match is washed out on Tuesday, both teams will get 1 point each. India are currently on top of the table with 2 points from 1 match while Pakistan and Sri Lanka also have 2 points each thanks to their wins over Bangladesh.
The India vs Pakistan game in Kandy is the only match to be completely washed out in Asia Cup 2023 as the groundmen have done a wonderful job in getting the stadiums ready. "We just wanted to get out on the park, to get some game time. Lot of guys haven't had that. That could only happen thanks to a great effort from the groundsmen. I know how tough it is to cover and remove covers from the whole ground. On behalf of the entire team, we would like to thank them," Team India captain Rohit Sharma said after the win over Pakistan on Monday.
Related posts