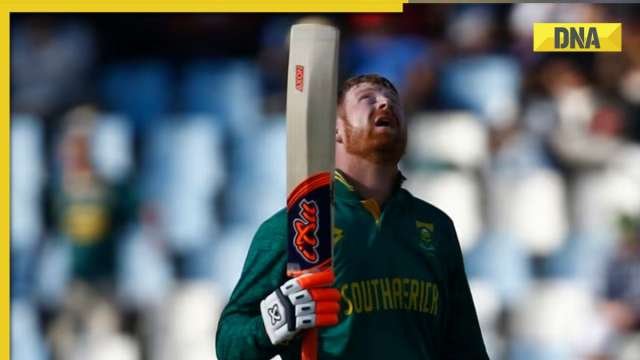 In one of the most breathtaking displays of batting prowess in ODI cricket history, Heinrich Klaasen embarked on a record-breaking spree, dismantling the Australian bowling attack in a must-win 4th ODI of a 5-match series held in Centurion on Friday, September 15. Klaasen's performance left cricket fans in awe as he carved his name into the annals of the sport.
Klaasen's remarkable innings saw him amass a staggering 174 runs off a mere 83 balls, a feat punctuated by an astounding 13 sixes and an equal number of boundaries. His explosive knock turned the match on its head and left the Australian bowlers in disarray.
Thanks to Klaasen's extraordinary heroics, South Africa achieved an unprecedented milestone, posting the highest total in the history of ODI cricket at Centurion's SuperSport Park – a mammoth 416 for 5 in their allotted 50 overs.
The innings began rather steadily for Klaasen, who was at 25 off 26 balls as the 32nd over concluded, with South Africa's score at 157 for 3. However, the latter part of the innings saw Klaasen and David Miller unleash a relentless assault on the Australian bowling attack. In the last 18 overs of the contest, the Proteas amassed a staggering 259 runs, leaving the Australian bowlers shell-shocked.
Heinrich Klaasen's monumental score of 174 ranks as the eighth-highest individual score by a South African batter in men's ODIs. His tally of 13 sixes stands as the second-highest number of sixes hit by a South African batter in ODIs, trailing only AB de Villiers, who managed 16 against West Indies in Johannesburg in 2015.
Klaasen and David Miller combined forces to construct a formidable partnership, adding a phenomenal 222 runs in just 94 balls for the 5th wicket, propelling South Africa to an imposing total in their quest to level the 5-match series.
The year 2023 has proven to be a remarkable one for Heinrich Klaasen, as he has consistently delivered stellar performances. His aggregate of 521 runs in 10 matches includes two centuries and a fifty. Notably, Klaasen had previously dazzled with a 61-ball 119 not out against the West Indies in Potchefstroom in March 2023, achieving his hundred in just 54 balls in that remarkable innings.
In terms of fastest centuries against Australia, Klaasen's 57-ball hundred in 2023 in Centurion ranks second, just behind Virat Kohli's 52-ball century in 2013 in Jaipur.
This incredible batting performance not only helped South Africa secure a vital win but also etched their name in the record books, marking the 5th highest total in ODI cricket for the Proteas.
Highest Totals for South Africa in ODI Cricket:
439 for 2 vs West Indies in Johannesburg in 2015
438 for 9 vs Australia in Johannesburg in 2006
438 for 4 vs India in Mumbai in 2015
418 for 5 vs Zimbabwe in Potchefstroom in 2006
416 for 5 vs Australia in Centurion in 2023*
Among the Australian bowlers, Adam Zampa bore the brunt of Klaasen's onslaught, conceding a staggering 113 runs in his 10-over spell, marking it as the joint-most expensive spell in ODI cricket history. Klaasen's extraordinary innings will be remembered as a watershed moment in the world of cricket.
Related posts