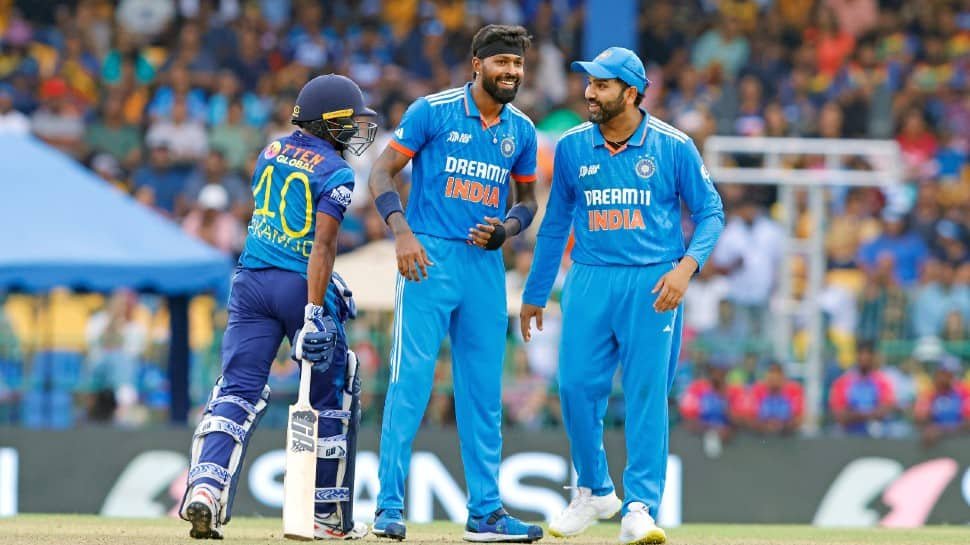 Rohit Sharma (right) and Hardik Pandya during the Asia Cup 2023 final. (Photo: ANI)
A few years back former India captain Virat Kohli was asked in a chat show about the most 'forgetful' cricketers in Team India. Kohli had no hesitation in saying that it was current skipper and Team India opener Rohit Sharma.
On Sunday, after India's record 8th Asia Cup title win, Rohit Sharma once again displayed his 'forgetful' nature. With Team India getting ready to depart for the hotel for the airport at night, Rohit Sharma was all packed by kept the team bus waiting for a hilarious reason. A hotel official had to come over and hand Rohit Sharma his passport as the Indian captain had forgotten it, presumably in his hotel room.
WATCH hotel official hands Team India captain Rohit Sharma his passport HERE…
Virat Kohli in 2017 – I haven't seen anyone forget things like Rohit Sharma does. He even forgets his iPad, passport.

Tonight – Rohit forgot his passport, and a support staff member gave it back to him. (Ankan Kar). pic.twitter.com/3nFsiJwCP4
— Mufaddal Vohra (@mufaddal_vohra) September 17, 2023
Back in 2017, Virat Kohli had said this about Rohit Sharma in an interview, "I haven't seen anyone forget things like Rohit Sharma does. He even forgets his iPad, passport."
However, Rohit Sharma didn't forget to praise his teammates after a remarkable 10-wicket win over Sri Lanka in the Asia Cup 2023 final on Sunday. Team India bowled out Sri Lanka for just 50 with pacer Mohammed Siraj claiming 6/21 and then chased down the target in just over six overs.
"Yeah was a great performance. To come out and play like that in the final shows the mental character. It was a great start with the ball and clinical finish with the bat. I was standing in the slips, and something we take pride in – our seamers have been working really hard. It was good to see that," Rohit Sharma said in the post-match presentation.
"Such a performance we will cherish for a long time. I never thought it's going to do that much. It comes down to the skillset of individuals. Siraj has to be given a lot of credit. Rare for seamers to move the ball in the air and off the pitch. He's coming off age," the Indian captain added.
Rohit Sharma went on to add that Team India achieved all that they possibly could from the Asia Cup 2023. "We did everything we could've achieved as a team in this tournament. Look forward to the series that is coming up in India, and then the World Cup. The way Hardik and Ishan batted in that pressure situation against Pakistan, and then KL (Rahul) and Virat (Kohli) getting hundreds. The way (Shubman) Gill has been batting. Guys have stood up at various stages," Rohit Sharma felt.
Related posts