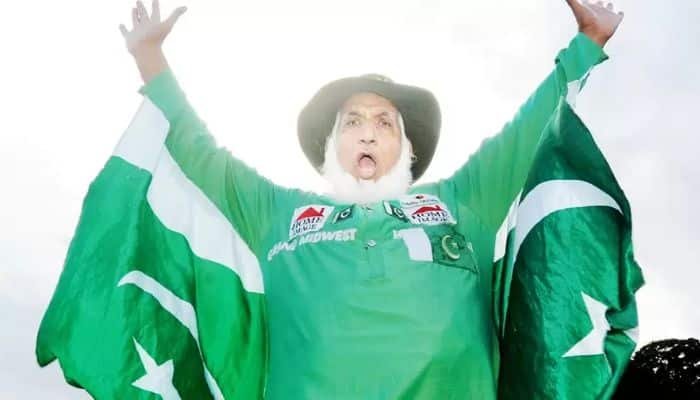 In the heartlands of Sialkot, where cricket flows through the veins of every individual, there stands a man who has become synonymous with Pakistan's cricketing spirit. Chaudhry Abdul Jalil, lovingly known as "Chacha Cricket," is more than just a fan; he's an embodiment of the nation's unwavering passion for the game. This is his story – a tale of devotion, resilience, and undying love for cricket.
"@SaadMaqsood2: #PeaceMatchPeshawar Chaha Cricket also in stadium…! GOOD WORK by #PTI and #JI Both .. pic.twitter.com/qQiRhlLU6j"
— Hassan Raza (@HSNPTI) October 13, 2013
The Rise of Chacha Cricket: Early Years (1969–1996)
Chacha Cricket's journey began in 1969 when, at the tender age of 19, he witnessed his first international match at Lahore Stadium. It was Pakistan against England, and little did he know that this experience would set the stage for his lifelong commitment to the sport. From 1973 to 1996, he toiled as an assistant foreman at a water-pumping station in Abu Dhabi, far from the cricketing action.
The Austral-Asia Cup Breakthrough (1994)
However, destiny had a different path for Chacha Cricket. It was during the 1994 Austral-Asia Cup in Sharjah that he made his mark. Dressed in his iconic green kurta adorned with corporate logos and armed with his infectious enthusiasm, he caught the cricketing world's attention. He didn't just cheer; he became the spirit of the game.
The Call to Serve: Return to Pakistan (1998)
By 1996, Chacha Cricket's face was etched into the memories of every Pakistani cricket fan. It was then that the Pakistan Cricket Board (PCB) recognized his potential and offered him the role of the official cheerleader for the national team. PCB Chairman Syed Zulfiqar Ali Shah Bukhari saw in him a diehard fan who could unite the crowd in support of the team.
Chacha returned to Pakistan, but the winds of change had arrived in the cricketing landscape. A new government took over, and PCB's secretary, Waqar Ahmed, wasn't keen on the idea of a traveling cheerleader. It seemed his dream would be dashed, but Chacha Cricket's determination wouldn't allow it.
A Journey of Perseverance: Winning Hearts Around the World
Faced with obstacles, Chacha Cricket went to the British embassy with nothing but photos of himself at cricket grounds worldwide. His passion and dedication impressed a senior official, and he secured a visa for the 1999 Cricket World Cup in England.
Since then, Chacha Cricket has become a global phenomenon. He's been to over a hundred matches in Sharjah, traveled to England, South Africa, Sri Lanka, Bangladesh, and India, all in the name of supporting Pakistan. He's become a fixture at international cricket grounds, and his infectious slogans and patriotic fervor have made him a favorite among cricket fans worldwide.
The Man Behind the Mascot: A Life Devoted to Cricket
Chacha Cricket isn't just an icon; he's a symbol of devotion. He left a comfortable job in the UAE to pursue his dream of cheering for Pakistan. He sold his house to witness a historic World Cup semi-final in 2011. His love for the game knows no bounds, and his loyalty to the men in green is unwavering.
Despite the ups and downs, Chacha Cricket remains upbeat and happy in Pakistan. He's received accolades and awards for his unwavering support for the national team. His story teaches us that anyone with a clean heart can find happiness in the most challenging circumstances.
In a nation where cricket is more than just a sport, Chacha Cricket stands as a testament to the power of passion. He's not just a fan; he's a symbol of resilience and dedication. His love for cricket has transcended borders, and he continues to inspire generations with his unwavering support for Pakistan. Chacha Cricket isn't just a mascot; he's a living legend in the world of cricket.
Related posts