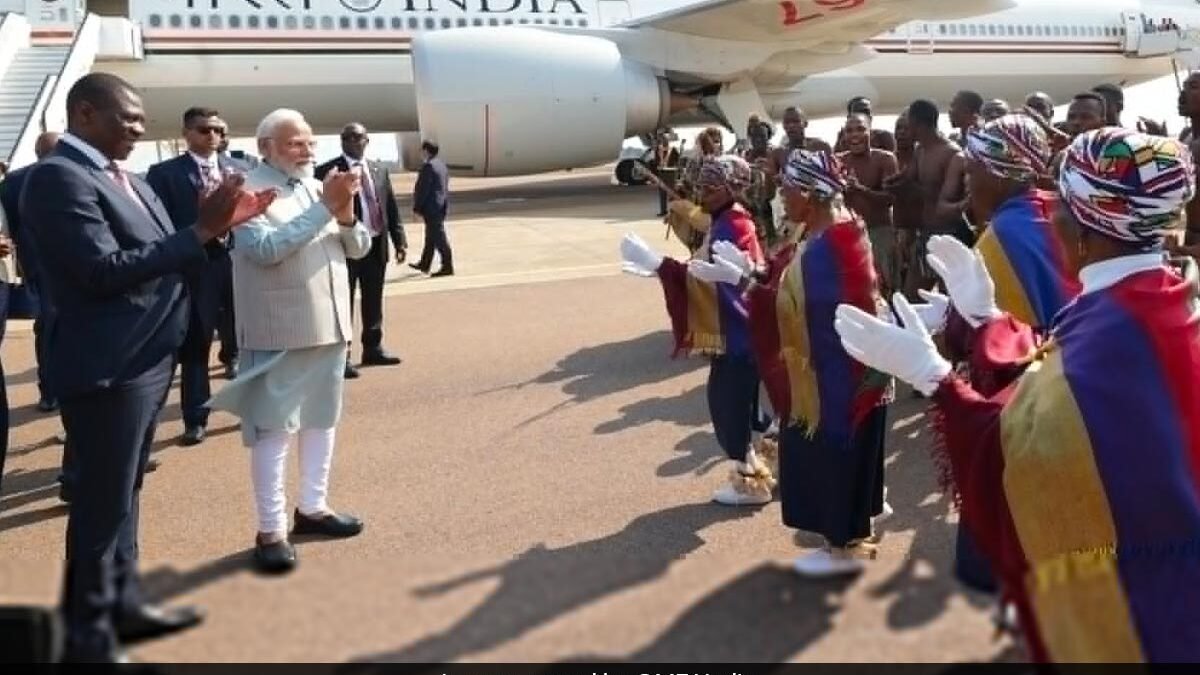 BRICS Summit in Johannesburg: PM Modi and Xi Jinping had briefly met last year in November (File)
New Delhi:
Prime Minister Narendra Modi landed in South Africa on Tuesday evening to take part in the three-day BRICS summit that begins from today. The visit comes amid buzz over a possible bilateral meet with China's Xi Jinping, which has yet to be confirmed.
Here are the top 10 updates on this big story
Prime Minister Modi – who was warmly welcomed at the airport by Deputy President Paul Shipokosa Mashatile – will join China, Russia and hosts South Africa for the first in-person BRICS summit since 2019; the last three were held online because of the COVID pandemic.

Asked about a possible meeting with President Jinping on the summit's sidelines, India said yesterday the Prime Minister's schedule is 'still being developed'. "We have a positive intent and an open mind when it comes to BRICS expansion," Foreign Secretary Vinay Kwatra said.

PM Modi's first official engagement will be at 4 pm local time (7.30 pm IST) – the BRICS' Business Forum Leaders' Dialogue. The Prime Minister is slotted to address the gathering for 10 minutes at 4.30 pm; President Jinping's 10-minute address is slotted for immediately afterwards. He will then attend the BRICS Leaders Retreat that will see Russian President Vladimir Putin participate via a video link. Possible topics for discussion at this event will be global developments and the BRICS membership expansion issue.

Last month a senior South African diplomat said over 40 nations had expressed interest in joining the BRICS grouping, which represents around 40 per cent of the world's population. Argentina, Iran, Saudi Arabia, the United Arab Emirates, Cuba, the Democratic Republic of Congo, Comoros, Gabon, and Kazakhstan have all expressed interest, officials said.

As PM Modi left for the summit, he said he hoped the meeting would provide a useful opportunity for all members to 'identify future areas of cooperation'. "… BRICS has become a platform for discussing and deliberating on issues of concern for the Global South."

Buzz about a possible Modi-Jinping bilateral meeting Xi Jinping on the summit's sidelines come as Indian and Chinese troops remain locked in confrontation in parts of eastern Ladakh despite disengagement at some others following extensive diplomatic and military talks.

Last month, National Security Advisor Ajit Doval met Chinese Foreign Minister Wang Yi on the sidelines of a meeting of BRICS nations in Johannesburg and emphasised the importance of continuing efforts to fully resolve the situation and restore peace in the border areas.

India-China ties deteriorated following a fierce clash in Ladakh's Galwan Valley in June 2020 that marked the most serious military conflict between the two countries in decades.

After a series of military and diplomatic-level talks, the two sides completed the disengagement process in 2021. However, India maintains that ties with China cannot be normal unless there is peace in the border areas.

If the bilateral meet between PM Modi and Xi Jinping takes place, it will be their first since the India-China border standoff began in May 2020. The two leaders had briefly met last year in November – at the G20 dinner hosted by Indonesian President Joko Widodo in Bali.
Related posts