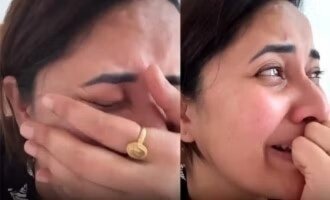 'Pushpa' actress posts video crying uncontrollably and shocks netizens
ravik1910, 1 month ago
0
3 min

read
12
The Allu Arjun – Rashmika Mandanna starrer 'Pushpa' released in 2021 not only became a blockbuster hit in Telugu but also in Tamil, Hindi and Malayalam as well. Most of the stars in the film gained pan Indian fame namely Sunil.
Anasuya Bharadwaj a former host on Telugu TV turned actress played a negative role in 'Pushpa : The Rise' and she was also seen as the wife of Gautham Menon's character in 'Michael' starring Sundeep Kishan.
In this situation, actress Anasuya had posted a video in which she is seen crying uncontrollably that shocked her fans on Instagram. She has now given an explanation writing "Hello there!! Hope all of you are in good health and good spirits.. I know all of you coming across this post of mine are in a very confused state of mind.. social media platforms.. initially.. at least to my knowledge.. were introduced to initiate connections.. across the globe.. to make it a better place.. be there for each other.. share informative contents.. experience each others' lifestyles and cultures.. spread happiness.. I wonder.. today.. if any of it is actually there.."
The 42 year old added "Anyway.. the purpose of this post is to put it to you that.. all the poses.. the photoshoots.. the candids.. the smiles.. laughs.. dances.. the strong counters.. the comebacks.. etc etc.. are a part of my life here.. so are you guys.. so I share all that with you.. and so are these phases of my life.. where I am not so strong.. I am vulnerable.. have breakdowns.. I want you to know.. its inevitable.. being human.. everything of it is true.. as a pubic figure.. I am forced to think to be this person with neutral feelings.. diplomacy.. don't care attitude.. "strong†.. but that version of strength isn't my version of strength .. my strength is this.. right here.. to be able to share my vulnerability and still put my foot down to things I believe should be put down to.. have a good cry and get up and face the world with a smile a day or two later.."
However Anasuya finished the post in an upbeat mood writing "Rest.. Reboot.. but Don't quit. Also on the other hand.. I urge everyone.. to be kind .. irrespective of what you are thrown at by a certain person.. may be he/she is having a bad day.. imagine how sick they are at heart and mind that before saying or doing certain mean things to people they don't even know entirely or might never meet in person.. pray for them to be well enough to be human.. be considerable.. they will come around.. believe me.. I am learning it the hard way PS: I am totally fine now. This one's from a memory I recorded to remember that phase.. 5 days ago. Much Love …Yours Truly"
Anasuya Bharadwaj is currently reprising her role of Dakshayani in 'Pushpa 2 : The Rule' directed by Sukumar for Mythri Movie Makers. The film will also see the return of Allu Arjun in the title role along with Rashmika Mandanna, Sunil and Fahadh Faasil. Sai Pallavi and Sree Leela have been added to the cast.
Related posts