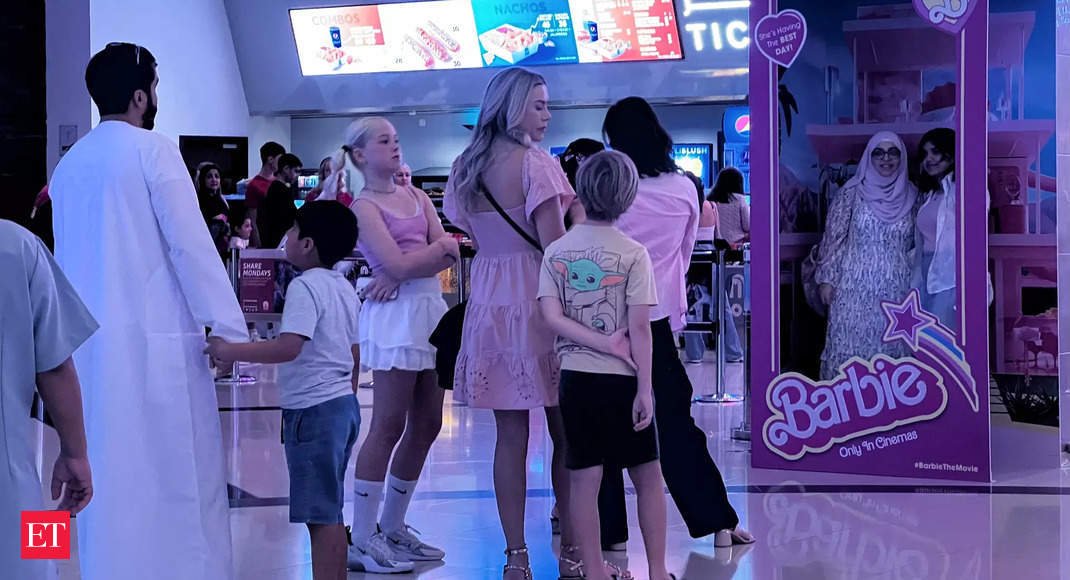 Barbie movie IMAX release date, new post-credits scenes; here are the details
ravik1910, 1 month ago
0
3 min

read
12
Margot Robbie's Barbie movie has broken all possible records at the box office and is still going strong. The film will now have a limited IMAX release, with unseen footage in the post-credits. Warner Bros., the producers of Barbie have set a one-week IMAX release for the film.
Barbie is the highest-grossing release of the year at the domestic box office, also breaking records worldwide.
When is Barbie Releasing in IMAX?
Barbie will be released in IMAX theaters for a week, starting from September 22, 2023. The special IMAX release of Barbie will also feature new post-credits scenes never seen before. Variety reports that exclusive footage has been selected by the film's director, Greta Gerwig.
Where is Barbie Releasing in IMAX?
The Barbie IMAX release covers all of North America, and select international territories. Barbie's IMAX release announcement was made on August 23 by Warner Bros. executives Jeff Goldstein, President, Domestic Distribution, and Andrew Cripps, President, International Distribution.
Greta Gerwig also said in a statement, "We made Barbie for the big screen, so it's a thrill to be able to bring it to IMAX, the biggest screen of all. As a special thanks to Barbie fans, we're excited to share a little bit more of our cast and crew's incredible work by adding special new footage we hope audiences will enjoy."
"If there was one thing missing in this winning Barbie strategy, it was being able to put Greta's singular vision on premium IMAX screens over the uber-competitive summer corridor," said Goldstein and Cripps in a joint statement.
"That Barbie continues to draw packed audiences around the world heading into its sixth weekend in release speaks to the quality of the film and the excitement audiences have for the story," they said.
"We are so pleased to give them a chance to see 'Barbie', whether for the first or fifth time, in such an experiential format as IMAX," said the executives.
Barbie released on July 21, 2023, alongside Christopher Nolan's Oppenheimer. Barbie's current box office total stands at $572 million in North America and $1.3 billion worldwide.
While Universal Pictures' Oppenheimer got an exclusive IMAX release and was also shot in IMAX, Barbie viewers did not have the advantage. Now that Barbie has done remarkably well, Warner Bros. are giving it an exclusive IMAX release.
"For all of us in the exhibition community, it's been exciting to watch an original film like Barbie become an unparalleled critical and commercial success this summer," Richard Gelfond, CEO, IMAX Corporation, said in a statement.
He added, "We're thrilled to be partnering with Greta and her filmmaking team and our friends at Warner Bros. to deliver this special edition of Barbie with never-before-seen footage exclusively to Imax audiences around the world."
FAQs
Q1. When is Barbie releasing on OTT?
Q1. Barbie released in cinemas on July 21, 2023. The film may release on Max in the US in August or September 2023. The OTT release date is not out.
Q2. Who stars in Barbie?
A2. Barbie casts Margot Robbie and Ryan Gosling in the lead. The movie also stars Emma Mackey, Ncuti Gatwa, Dua Lipa, America Ferrera, Issa Rae, Simu Liu, Anne Hathaway, Helen Mirren, and Kate McKinnon, among others.
Disclaimer Statement: This content is authored by a 3rd party. The views expressed here are that of the respective authors/ entities and do not represent the views of Economic Times (ET). ET does not guarantee, vouch for or endorse any of its contents nor is responsible for them in any manner whatsoever. Please take all steps necessary to ascertain that any information and content provided is correct, updated, and verified. ET hereby disclaims any and all warranties, express or implied, relating to the report and any content therein.
Related posts