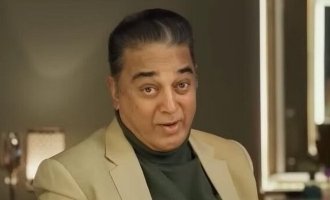 The 7th season of the Tamil version of 'Bigg Boss' is about to start in a few weeks time on Vijay TV. We have seen that two promos of the show have already been released and especially host Kamal Haasan mentioning that there are going to be not one but two houses this season has increased the anticipation for the reality show.
According to the current information,which are of course unconfirmed 18 contestants are going to participate in Bigg Boss Tamil 7. As we have already reported, Sharmila, the female driver from Coimbatore who won a car from Kamal Haasan,is likely to join the show as commoner contestant. Apart from her actors Abbas, Prithviraj and Sonia Aggarwal are said to be confirmed by the organizers.
Reports also suggest that famous young actresses Ammu Abhirami and Darsha Gupta along with actor Santhosh Pratap are a certainty. It is also said that Mila the transgender adopted daughter of actress Shakeela has also auditioned. If the four of them are picked then there is going to be a strong 'Cook With Comali' representation in the 'Bigg Boss' house this season.
Other big names doing the rounds are VJs Rakshan and Jacqueline, actress Rachitha's ex-husband, Dinesh, VJ Parvathy, actress Rekha Nair, newsreader Ranjith, 'Kaaka Muttai' Vignesh and choreographer Sridhar. Bayilvan Ranganathan and actor Marimuthu have also been approached according to sources. All in all this season's contestants are expected to be very competitive and a tough fight is on the cards for the title of 'Bigg Boss 7.
Related posts