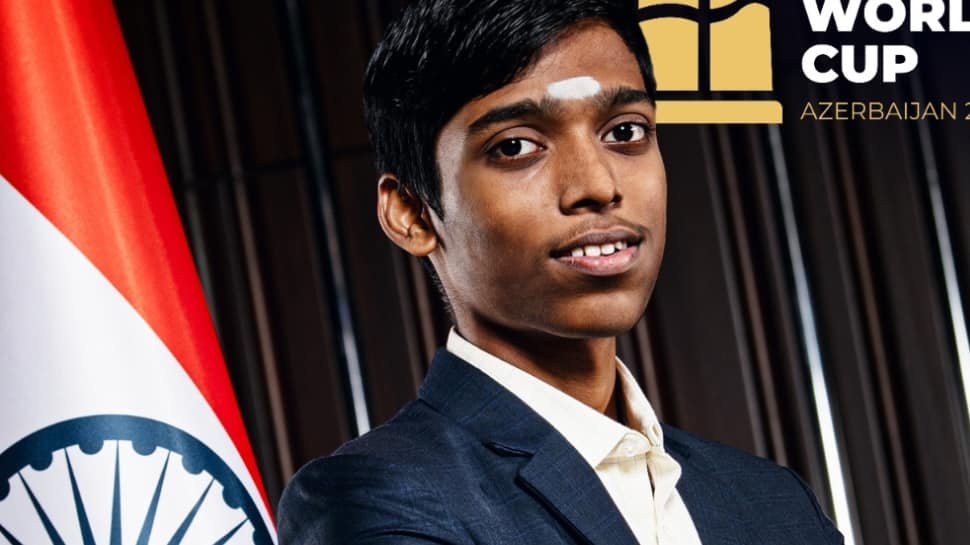 Indian Grandmaster R Praggnanandhaa's dream run in the FIDE World Cup ended at the hands of world No. 1 Magnus Carlsen, who beat him 1.5-0.5 in the tie-break here on Thursday after the classical games ended in a stalemate. The second 25+10 tie-break game ended in a draw in 22 moves as the Norwegian legend played it safe after he had won the first, displaying his end-game skills.
It was Carlsen's first World Cup triumph, having won the World Championship five times. Carlsen overcame a stiff challenge from his 18-year-old Indian opponent in the first tie-break game, winning it in 45 moves. He overcame the problems he encountered due to Praggnanandhaa's enterprising play to turn the tables and seize the advantage.
_ Magnus Carlsen is the winner of the 2023 FIDE World Cup! _

Magnus prevails against Praggnanandhaa in a thrilling tiebreak and adds one more prestigious trophy to his collection! Congratulations! _

_ Stev Bonhage #FIDEWorldCup pic.twitter.com/sUjBdgAb7a
— International Chess Federation (@FIDE_chess) August 24, 2023
The two classical games on Tuesday and Wednesday had ended in draws forcing the final to a tie-break. Praggnanandhaa enjoyed an incredible run in the tournament, having beaten world No.2 Hikaru Nakamura and world No.3 Fabiano Caruana to set up a final date against Carlsen.
The results in the ongoing tournament also helped Praggnanandhaa qualify for Candidates 2024 tournament, which will be held in Canada. Praggnanandhaa, thus, became the third youngest player after the legendary Bobby Fischer and Carlsen to qualify for the Candidates tournament.
R Praggnanandhaa's road to World Cup final:
– Got a bye in first round.
– Defeated French Grandmaster Maxime Lagarde 1.5-0.5 in second round.
– Beat experienced Czech GM David Navara 1.5-0.5 in third round.
– Beat world No. 2 Hikaru Nakamura of USA 3-1 in fourth round.
– Beat Hungarian Ferenc Berkes 1.5-0.5 in fifth round.
– Registered a come-from-behind 5-4 win over compatriot Arjun Erigaisi in the sixth round.
– Beat Italian-American Grandmaster, Fabiano Caruana, ranked third in the world, 3.5-2.5 in the semifinal to become the youngest to reach the summit clash of the World Cup.
– Game 1 of Final on Tuesday ended in a draw after 35 moves.
– Game 2 between Praggnanandhaa and Carlsen also ended in a quick draw in just 30 moves.
– Praggnanandhaa and Carlsen returned on Thursday to play in the shorter time control games, with the Indian losing in the tie-break.
Related posts