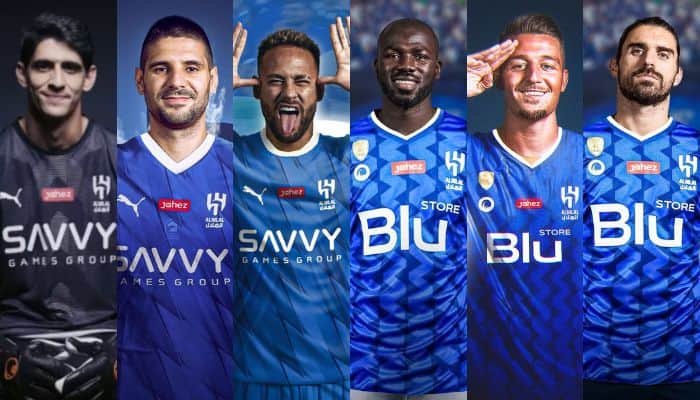 In a groundbreaking development for Indian football, Mumbai City FC, representing the Indian Super League (ISL), has been drawn into the same group as the illustrious Saudi Arabian powerhouse, Al Hilal SFC, in the upcoming 2023-24 Asian Champions League (AFC) Champions League. This announcement, shared via an ISL press release, has sent shockwaves through the footballing world.
Al Hilal, not only the most dominant force in Saudi Arabian football but also a behemoth in the Asian football landscape, have a staggering haul of 66 trophies to their name. Their record includes a plethora of Saudi Pro League titles and Asian Champions League crowns, highlighting their unparalleled success.
JUST IN: __Mumbai City FC vs __Al-Hilal on Nov 6th in Balewadi, Pune. [@MarcusMergulhao] pic.twitter.com/faxsmaFbfH
— Indian Football Index (@xIndianFootball) August 24, 2023
What truly makes this draw headline-worthy is not just Al Hilal's runner-up status in the previous edition but the star-studded roster they boast. From Brazilian sensation Neymar Jr. to Senegal's football captain, Kalidou Koulibaly, Al Hilal SFC is a veritable constellation of footballing luminaries.
The journey for Mumbai City FC in Group D of the AFC Champions League also includes challenges from Iran's Nassaji Mazandaran and Uzbekistan's PFC Navbahor Namangan. These fixtures promise to be a baptism by fire for the Islanders as they navigate a group brimming with talent and pedigree.
The clash of titans commences on October 23, as Mumbai City FC embarks on a journey to Riyadh for the away fixture against Al Hilal. The return leg promises to be a blockbuster event as the teams face off at the Shree Shiv Chhatrapati Sports Complex in Pune on November 6.
Let's delve into the superstar footballers that Mumbai City FC will be pitted against during these two-legged group stage matches:
Neymar Jr.:
After a six-season stint with Paris Saint-Germain (PSG), the Brazilian forward Neymar Jr. has recently completed his move to the Saudi Arabian club.
With 295 club goals and 77 international goals for Brazil, Neymar Jr. is a footballing icon of this generation.
While he awaits his debut for Al Hilal due to fitness concerns, his signing undoubtedly elevates their quest for the ACL trophy.
Kalidou Koulibaly:
Senegal's national team captain, Koulibaly, joined Al Hilal from Chelsea FC after a brief tenure with the Premier League club.
Standing at 6 feet 1 inch, his physical prowess and aerial dominance make him a formidable presence on the field.
Koulibaly achieved history in 2021 by leading Senegal to victory in the African Cup of Nations.
Sergej Milinkovic-Savic:
Serbian midfielder Milinkovic-Savic is known for his commanding presence in midfield, coupled with technical proficiency and tactical intelligence.
His eight-year spell with Serie A's Lazio brought him into the spotlight, drawing attention from top clubs worldwide.
Standing at 6 feet 4 inches, he's a towering threat during set pieces and has scored seven goals for his national team.
Ruben Neves:
Portuguese midfielder Ruben Neves, known for his work rate, passing range, set-piece expertise, and ball control, adds depth to Al Hilal's midfield.
His career journey from Porto to Wolverhampton Wanderers showcases his prominence for both club and country.
Neves is also celebrated for his long-range shooting prowess.
Aleksandar Mitrovic:
Serbian forward Mitrovic, with a classic center-forward style, excels in ball retention, aerial duels, and goal-scoring abilities.
During his tenure with Fulham, he scored 97 goals in 173 games and has 52 goals for Serbia in 81 caps.
His tenacity and relentless work ethic make him a menace for opposing defenders.
Yassine Bounou:
Known as Bounou, the Moroccan international is celebrated for his shot-stopping abilities and commanding presence in goal.
He made a significant impact during the FIFA World Cup 2022, helping Morocco achieve a historic fourth-place finish.
His success extends to his time at Sevilla FC, where he played a pivotal role in their UEFA Europa League triumph.
The stage is set, and football enthusiasts around the world eagerly anticipate these clashes of footballing titans in the AFC Champions League 2023-24. Stay tuned for what promises to be a thrilling and unforgettable journey for Mumbai City FC as they vie for glory against some of the sport's biggest stars.
Related posts