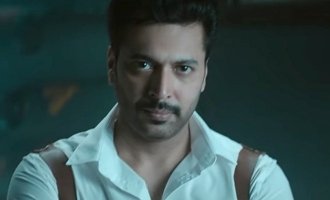 The 2015 film, 'Thani Oruvan', is one of the best action thrillers in Tamil cinema. Directed by Mohan Raja, the Jayam Ravi and Nayanthara starrer redefined the genre with brilliant characters and an arresting screenplay. Meanwhile, a sequel for Thani Oruvan has been on cards since 2018.
Finally, the official announcement of Thani Oruvan 2 was made with a kickass video today marking the 8th release anniversary of the first part. AGS Entertainment is bankrolling the sequel as well with Mohan Raja directing the film. Jayam Ravi and Nayanthara are reprising their roles as IPS Mithran and forensic specialist Mahima. Director AL Vijay has directed the promo video for Thani Oruvan 2 with music by Sam CS and DOP by Nirav Shah.
The 3-minute-long promo video features a unique fourth wall breaking concept between the creator and the character. The clip opens with Mohan Raja reminiscing the hero Mithran's character arc and how he chose the powerful Siddharth Abhimanyu (Arvind Swamy) as his rival. Then, the maker starts typing a new story with Mithran character after deep thinking. Jayam Ravi walks in the frame as IPS Mithran with a chip.
As Mohan Raja types, he takes a pistol and AR gun from his armory after choosing his new enemy. But the creator has a change of mind and erases the text leaving the character Mithran confused about what he's supposed to do. Mohan Raja breaks the fouth wall and interacts with his character Mithran to inform him that his enemy will choose him this time. The shooting for Thani Oruvan 2 will commence in 2024. The cast and crew details will be revealed soon.
Related posts