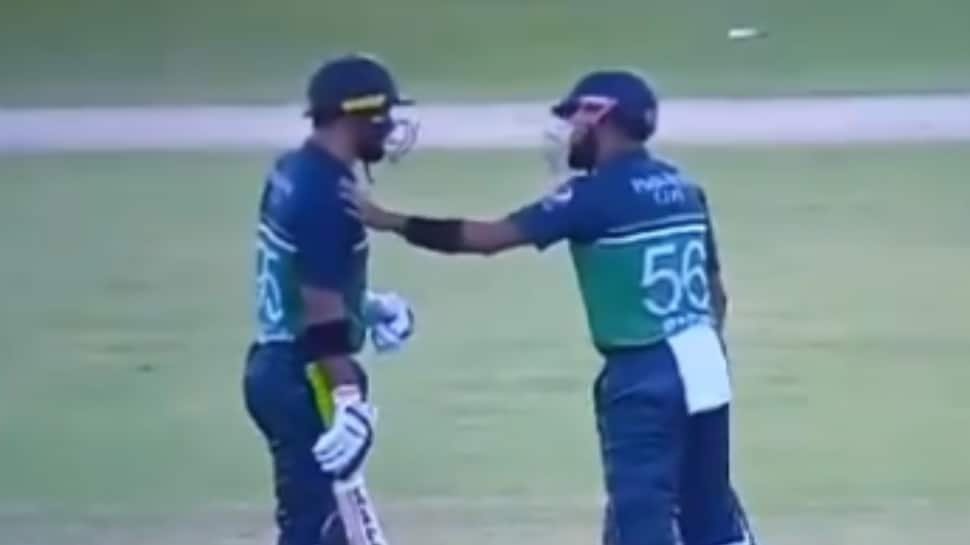 Babar Azam and Iftikhar Ahmed. (Source: Twitter)
Pakistan displayed a dominant show in the first ODI of Asia cup 2023 vs Nepal, beating them by a massive margin of 238 runs to kickstart their campaign on a bright note. The chief achitects of the win were captain Babar Azam and Iftikhar Ahmed, both of whom got hundreds in the match. Babar scored 151 off 131 balls to put up a mammoth task of 342 for 6 in 50 overs. Pakistan next play arch-rivals India on September 2 and the Men In Green will be happy to note that their captain is in red hot form.
Babar's innings included 14 fours and four sixes respectively. At the same time, Iftikhar smashed 109 off 71 balls that included 11 fours and 4 sixes respectively.
There was a moment in the game when it appeared that Iftikhar won't able to complete his maiden ton. At the end of the 45th over, Iftikhar was batting on 74 off 56 balls. There were 30 balls to go. Babar, in a very animtaed way, called Iftikhar to the middle of the pitch and chatted with him again in an animated way. The commentators tried to understand what was going their in the middle.
One of the commentators said that it appears Iftikhar is thinking about his hundred and told Babar that he is going after it as there just five overs to go. "What could be the response from Babar Azam. You know the gestures we saw. He must have been telling ' let me deal with the job. Don't worry about your hundred. It's a team work which is required here'," said the other commentator.
Watch Babar and Iftikhar's animated conversation here:
pic.twitter.com/ANJq3hnzeN
— LePakad7____ (@AreBabaRe2) August 31, 2023
One wonders what the conversation was really but one thing is for sure that it was related to the maiden hundred of Iftikhar. Maybe the batter wanted to score some quick runs but Pakistan captain reminded him that this is a team sport.
Iftikhar eventually scored his maiden ODI ton, which he really deserved. Babar and Iftikhar put on 214 runs for the fifth wicket. There was partnership was very crucial. Remember that Pakistan were 2 down for just 25 on the board at one stage. Mohammad Rizwan played a good hand off 44 runs but he too got run out. Ifitkhar then came in and stitched a big stand with Babar which proved to be decisive in the end.
While bowling, Shadab Khan picked four wickets while Shaheen Shah Afridi, Haris Rauf picked 2 wickets each. Naseem Shah and Mohammad Nawaz too got a wicket each to bowl out Nepal for just 104 in 23.4 overs.
Related posts