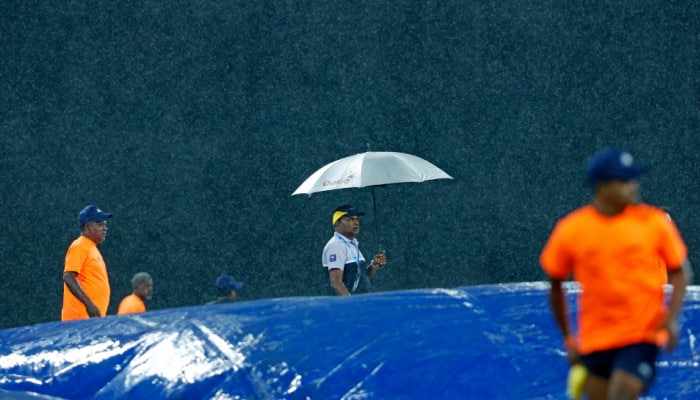 Rain likely today in Asia Cup final. (Image: ANI)
Rain is likely to affect the Asia Cup 2023 final between India and Sri Lanka today at Colombo. The match will be played at the R Premadasa international stadium from 3 pm IST. The fans, organisers, cricketers and groundstaff have equally been frustrated by the bad weather in the Sri Lankan city. Despite the various start-stops during the Super 4 stage of the tournament, only 16 overs have been lost during the second round, all thanks to efforts from the groundstaff. They have been relentless in their efforts to get the ground ready for the match. India captain Rohit Sharma and batter Virat Kohli have already praised the groundsman for their amazing efforts.
What is the weather update from Colombo?
No good news. The weather is expected to play spoilsport on September 17 with a 80 percent chance of rain predicted for Sunday, September 17 in Colombo. During the afternoon and evening time, thunderstorms will also hit the city. In evening, there is a 70 percent chance of rain.
Is there a reserve day?
There was no reserve day in Super 4 stage of Asia Cup, except the India vs Pakistan clash for which one was added at the last-minute by the Asian Cricket Council (ACC). There is, however, a reserve day in place for the Asia Cup 2023 final. If the match is not possible on September 17, September 18 has been kept as the reserve day.
What the Asia Cup 2023 final Reserve Day rules?
The reserve day comes into play only when the result is not possible on the first day of the match. This call will be taken by match officials, who will first ensure that the game gets over on the first day itself. If there are rain interruptions, the game can be reduced to a minimum of 20 overs per side. Even if then the match cannot get completed on the first, it will carry forward to the reserve day.
It is important to note that the match will not restart but continue on the reserve day. The score from the original match day will be carried through to the reserve day. If not a single ball is bowled on the original day, the full ODI will be played on the reserve day.
What happens is rain washes out reserve day as well?
If even the reserve day is washed out then the trophy will be shared between the two teams. Both India and Sri Lanka will be declared as joint champions.
Related posts