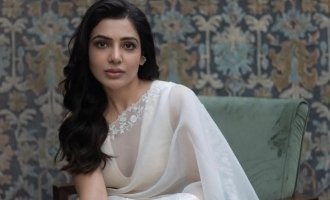 Samantha is still not cured
ravik1910, 1 month ago
0
2 min

read
11
Samantha Ruth Prabhu, who was acting in successive films not only in the South Indian film industries but also in Bollywood, revealed that she is suffering from a rare auto immune disease called myositis last year. Though she bravely put on a fight after a point she was forced to avoid projects and concentrated on completing the ones that she already signed. Due to this, Samantha's career was also severely affected.
Samantha took a break from acting and has been going on spiritual tours in India as well as vacationing abroad with friends. Now after a long gap she participated in a promotional event for her upcoming film 'Kushi' costarring Vijay Deverakonda. The 36 year old actress stunned fans gathered by dancing with her costar and remaining active throughout the event.
Vijay Deverakonda lauded Sam in his speech "Samantha struggled a lot for the 'Kushi'. We started the film with her smile in April last year and completed 60 percent of the shoot in one phase. Samantha's health worsened in July. Even when she said she was not feeling well, she was still beautiful and the director and I took it lightly as to what could be wrong with her. Only later did we realize its severity. Initially, Samantha did not say anything about it. Later, at one point she herself spoke openly about her health problems."
"She didn't even speak to us at one point due to the severity of her myositis. She didn't even let us see her sufferring and pain. Even right now she is not fully recovered and is suffering so much pain. The lights on the stage will give her a headache, but she has a smile on her face which is because of her love for you (Fans). I want to see the same smile on 1st September too" said Vijay Devarakonda. 'Kushi' is hitting the screens worldwide in multiple languages on September 1st.
Â
Related posts