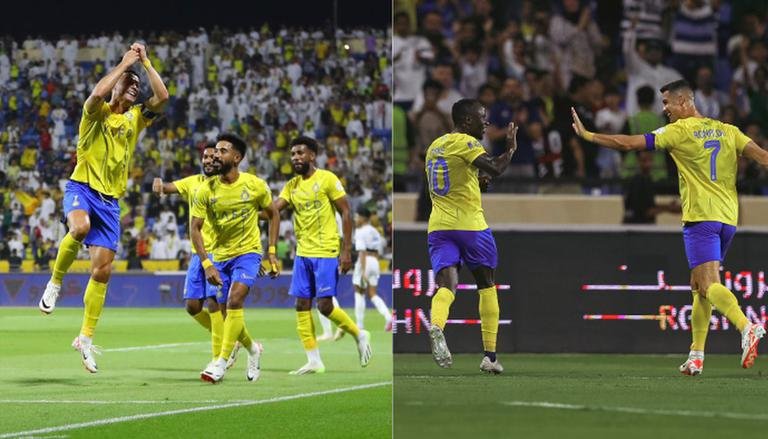 Cristiano Ronaldo scores 63rd career hat-trick as Al-Nassr beats Al-Fateh by 5-0
ravik1910, 1 month ago
0
2 min

read
12
Last Updated:
Cristiano Ronaldo resumes the scoring in the Saudi Pro League. Scores 63rd hat-trick of his career. Courtesy of his goals Al-Nassr defeated Al Fateh 5-0.
Cristiano Ronaldo scores a hat-trick for Al-Nassr (Image: cristianoronaldo/Alnassr/X)
Buoyed by the incredible victory in the AFC Champions League earlier in the week, Al-Nassr thumped Al Fateh with a convincing scoreline of 5-0 on Friday in the Saudi Pro League. Cristiano Ronaldo, who cut out a distraught figure midweek against Shabab Al-Ahil, displayed content this time as everything went in his favour. The 38-year-old netted the 63rd hat-trick of his career in the game against Al Fateh.
3 things you need to know
Al-Nassr defeated Al Fateh 5-0 in the Saudi Pro League
Ronaldo scored a hat-trick for his side
Sadio Mane finished with a brace
Also Read | Cristiano Ronaldo likely to play in India? Al-Nassr FC vs Mumbai City FC loading
Cristiano Ronaldo scores three as Al-Nassr beats Al Fateh 5-0
After losing the first two games in the fresh season of Saudi Pro League, a statement victory was expected from Al Nassr and it came in the most spectacular way possible. Ronaldo and the club's big summer signing of the season Sadio Mane combined to hit five past the Al Fateh goalkeeper. Ronaldo set up Mane beautifully for the first goal, and later in the first half scored his first goal. Al-Nassr overtly dominated the possession and thus more goals were looming. Ronaldo ended up with two more goals and Mane also completed his brace. A 5-0 victory may hint that Al-Nassr has recovered from the initial blows.
Also Read | Cristiano Ronaldo gets furious and pushes official after being denied penalty – WATCH
Watch Cristiano Ronaldo's 63rd career hat-trick
After providing a magnificent assist to Sadio Mane in the 27th minute, Ronaldo got onto the scoresheet first time in the 38th minute. He then extended the team's cushion to 3-0 in the 55th minute, and before the final whistle wrapped the perfect night by scoring another. Here are the clips of Cristiano Ronaldo exhibiting his insatiable hunger to score goals, yet again.
First Goal From The GOAT Today. 💛🔥#Ronaldo#AlNassr#TrumpMugShot #RSAvsNZL #SmartFIBA #MexicoCityTSTheErasTour #blackout #BLACKPINK #فاطمة_المؤمن #TrumpArrest #TrumpArraignment pic.twitter.com/gmq82GS49u

— Bellingham Fan Club (@asimsafdar0) August 26, 2023
AlNassr Symphony Orchestra 🎶💛 pic.twitter.com/9QzLpLyf70

— AlNassr FC (@AlNassrFC_EN) August 25, 2023
It's over.. the 5th goal on Friday night 🙌🐐 pic.twitter.com/AT9VOIGjRz

— AlNassr FC (@AlNassrFC_EN) August 25, 2023
The ever-amusing "Siuuu" echoed at the Prince Abdullah Bin Jalawi Stadium. So, the obsession with scoring goals continues and CR7 may top the list this season. The objective might seem unattainable but not in the books of Cristiano Ronaldo.
Related posts