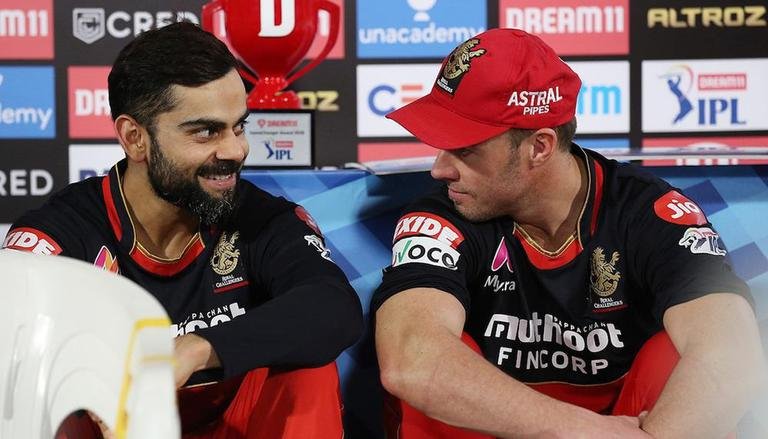 Last Updated:
After Ravi Shastri and Sanjay Manjrekar, former South African cricketer Ab de Villiers has paid heed to the batting position of Virat Kohli.
Ab de Villiers has a say on Virat Kohli's batting position (Image: BCCI)
Ahead of the start of the Asia Cup and the forthcoming ICC ODI World Cup, opinions are raining on where is Virat Kohli most suited in the batting position. Is it number 3, which he prefers and where he has been predominant throughout his ODI career or at number 4, which may bring new balance and fluency in the order? While Sanjay Manjrekar and Ravi Shastri recently had an insightful chat about this, it is now Kohli's former IPL teammate and friend AB de Villiers, who has given his say on this.
3 things you need to know
Asia Cup 2023 to begin from August 30, 2023
The ICC ODI World Cup to start from October 5, 2023
Before the start of the World Cup, discussions are prominent on Virat Kohli's batting position
Also Read | Ex cricketer names bowler whose record is better than Bumrah-Shami, and must 'play'
Ab de Villiers supports Virat Kohli at number 4
Virat Kohli would be the perfect answer for India's No.4 conundrum at the World Cup as he can put the innings together and play any kind of role in the middle order, feels South Africa great AB de Villiers. India has struggled to find a suitable No.4 ever since Yuvraj Singh retired from cricket. With the 50-over World Cup less than two months away, there has been a lot of discussion about who will bat at the spot.
"We're still talking about who will be the No. 4 batter for India. I've heard some rumors about Virat possibly taking up that position. I would be a big supporter of that," de Villiers said on his YouTube channel.
"I think Virat is perfect for No. 4. He can put the innings together, and play any kind of role in that middle order. I don't know if he would like to do that. We know he loves his No. 3 position; he's scored all his runs there, but at the end of the day, if the team needs you to do something, or play a certain role, you have got to put your hand up and got for it," de Villiers added.
While Kohli prefers to bat one down, he has a decent record coming in at No. 4. In 39 innings, he has scored 1,767 runs at an average of 55.21 and a strike rate of 90.66. However, it has been over three years since Kohli batted in the No. 4 position in January 2020 when he played against Australia in Mumbai.
Both Shreyas Iyer and KL Rahul have recovered from their injuries and are a part of the 17-member Asia Cup squad. Iyer has done 20 matches at No. 4, scoring 805 runs at 47.35 with two centuries and five fifties. He is most likely to reclaim the spot.
Also Read | BCCI President Roger Binny Likely To Travel To Pakistan On For Asia Cup: Reports
The captain wants a flexible batting line-up
Earlier this week, skipper Rohit Sharma stressed the need to have flexibility in the batting order.
Disappointed to see Chahal being dropped. Leg-spinner Yuzvendra Chahal failed to make the India squad for the Asia Cup as the selectors gave preference to wrist spinner Kuldeep Yadav and spin all-rounder Axar Patel.
"Chahal has been dropped, selectors making their intentions clear who they will be picking. It's a bit of a disappointing drop for me, Yuzi is always very handy and it's great to have the leg-spinning option in your team. We know how skillful he is," de Villiers said. (With inputs from PTI).
Related posts