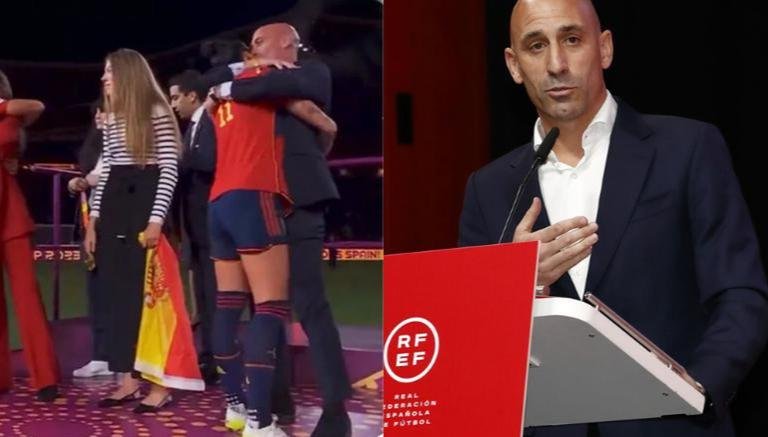 Last Updated:
Hermoso issued a statement on Friday, condemning Rubiales' speech. She said Rubiales kissed her without her consent and that she felt a victim of aggression.
Hermoso being kissed by Rubiales after Spain's World Cup victory (Image: Twitter/AP)
Amid intensifying calls for Luis Rubiales' resignation over his controversial behavior following the Women's World Cup final, the Spanish football federation has announced its intention to take legal action in defense of its president against what it deems as 'false' feminism. Rubiales and the Spanish FA have come under intense scrutiny ever since the former kissed midfielder Jenni Hermoso during the presentation ceremony at the FIFA Women's World Cup 2023 final last Sunday. A video went viral showing Rubiales kissing Hermoso on the lips as she walked on the stage to receive her gold medal.
3 things you need to know
Spain defeated England 1-0 in the final of the Women's World Cup on Sunday
This Spanish team became the first women's side from Spain to win the World Cup
Jenni Hermoso missed a crucial penalty kick during the final against England
Also Read: Spain Soccer Head Won't Resign For Kissing Player At World Cup. Team Won't Play Until He Goes
Spanish women's team refuses to play matches until Rubiales' resignation
The decision comes after Spain's women's national team declared their refusal to play further matches unless Rubiales steps down. The criticism stems from an incident where he kissed player Jenni Hermoso on the lips after their Women's World Cup victory against England on August 20. Note, that Rubiales came under the lens for his crotch-grabbing gesture during another game at the World Cup.
Meanwhile, the England women's football team has also extended its support to Hermoso and backed their demand to seek Rubiales' resignation. Following Rubialses' justification, England star Alex Morgan lashed out at Rubiales, saying that she was disgusted by the latter's public actions.
I'm disgusted by the public actions of Luis Rubiales. I stand by @Jennihermoso and the Spanish players. Winning a World Cup should be one of the best moments in these players' lives but instead it's overshadowed by assault, misogyny, and failures by the Spanish federation.

— Alex Morgan (@alexmorgan13) August 25, 2023
Hermoso issued a statement on Friday, condemning Rubiales' speech. She said Rubiales kissed her without her consent and that she felt a victim of aggression. Hermoso alleged that the Spanish FA pressurised her and her family to speak out in Rubiales' defence.
"In reference to what has happened today [Rubiales' speech] and while I don't want to interfere with the multiple ongoing legal procedures, I feel obligated to say that the words of Mr Luis Rubiales explaining the unfortunate event are categorically false and part of the manipulative culture he has created," Hermoso said.
"I want to make clear that not in any moment did the conversation occur that Mr Luis Rubiales references, and much less that his kiss was consensual. In the same way I want to reiterate how I did in that moment that what happened was not enjoyable," she added.
"The situation left me in shock because of the context of the celebration, and with the time passed, and those initial feelings being able to sink, I feel the need to denounce this as I feel that no one, in no work space, sporting or social, should be a victim to this type of unconsensual behaviour. I felt vulnerable and a victim of aggression, an impulsive act, sexist, out of place and without any type of consent from my part. In short, I wasn't respected," she said.
Also Read: 'I Will Not Resign': Spain FA Chief Adamant On Not Stepping Down In Wake Of WWC Kiss Saga
Despite mounting pressure from various quarters, including athletes and politicians, Rubiales has remained steadfast in his position. The federation intends to counter alleged lies about the incidents, vowing to substantiate its case with evidence in court. The controversy has prompted reflections on women's football in Spain, with experts considering it a potential catalyst for transformative change in the sport's leadership.
Image: Twitter/AP
Related posts