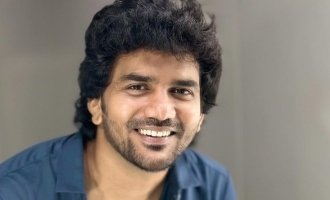 Kavin's new film with Yuvan Shankar Raja
ravik1910, 1 month ago
0
1 min

read
14
Kavin, the television star who rose to fame with the Bigg Boss show, is an accomplished actor in Tamil cinema. He announced an exciting new project today. We already broke to you that he teamed up with director Elan of 'Pyaar Prema Kadhal' for a new film. Read at: Kavin replaces Harish Kalyan in the much-awaited movie? – Full story
Kavin took to his social media and confirmed his movie with director Elan today. They are coming together for the film, 'Star', which initially had Harish Kalyan as the lead. Now, Rise East Entertainment and Sri Venkateswara Cine Chitra are reviving the project with Kavin in the lead role while Elan and Yuvan Shankar Raja are retained as the director and music director respectively.
The first look of Star shows Kavin in back pose standing in the spotlight and performing in a theatre. A special promo of the movie will be revealed on August 31st, the birthday of Yuvan Shankar Raja. The technical team comprises Ezhil Arasu K as the DOP, Vinoth Rajkumar N as the art director and Pradeep E Ragav as the editor. Fans are excited for this upcoming flick.
Reports suggest that the team is in talks with Ivana and Divya Bharathi for the female lead role in Star. On the work front, Kavin is currently shooting for his film directed by choreographer-actor Sathish with music by Anirudh.
வயத௠மà¯à®¤à®¿à®°à¯à®¨à¯à®¤ போதிலà¯à®®à¯..
வலிகள௠மிகà¯à®¨à¯à®¤ போதிலà¯à®®à¯..
வலிமை கà¯à®±à¯ˆà®¨à¯à®¤ போதிலà¯à®®à¯..

வீரன௠வாள௠தரிபà¯à®ªà®¤à¯ˆ நிறà¯à®¤à¯à®¤à¯à®µà®¤à®¿à®²à¯à®²à¯ˆ!#Star

Special promo on Aug 31st â­ï¸ pic.twitter.com/ei4SWbOFgz

— Kavin (@Kavin_m_0431) August 28, 2023
Related posts