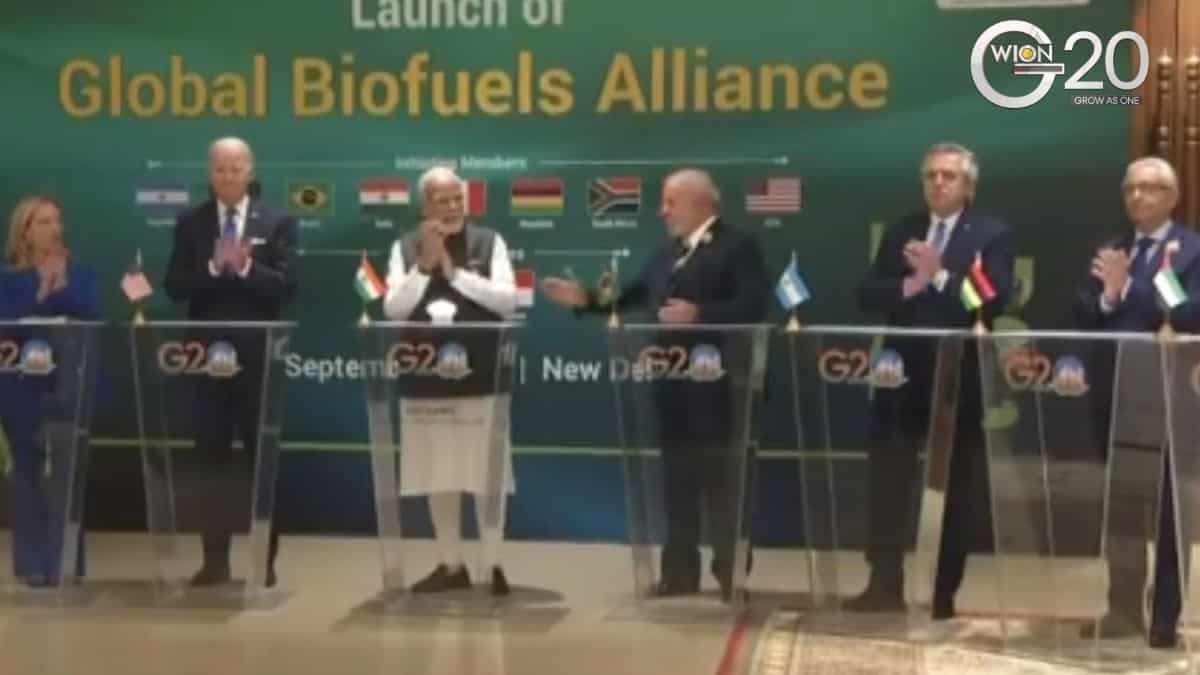 Indian Prime Minister Narendra Modi, on Saturday (September 9), launched the Global Biofuels Alliance in the presence of United States President Joe Biden, President of Brazil Luiz Inacio, President of Argentina, Alberto Fernández and Prime Minister of Italy Giorgia Meloni.
Earlier in the day, PM Modi had announced the launch of the Biofuel Alliance and urged the G20 nations to join the initiative with a petition to take ethanol blending with petrol globally to 20%.
"Today, the need of the hour is that all countries should work together in the field of fuel blending. Our proposal is to take an initiative at a global level to take ethanol blending in petrol up to 20%," he said.
trending now
"Or alternatively, we could work on developing another blending mix for the greater global good, one that ensures a stable energy supply while also contributing to climate security," PM Modi said at the session attended by U.S. President Joe Biden, Saudi Arabia's Crown Prince Mohammed bin Salman, U.K. Prime Minister Rishi Sunak among others.
The Global Biofuel Alliance is one of the priorities under India's G20 Presidency. The leading biofuel producers and consumers, Brazil, India, and the United States, will work together during the next few months towards the development of a Global Biofuels Alliance along with other countries that are interested.
#WATCH | G-20 in India: PM Narendra Modi launches 'Global Biofuels Alliance' in the presence of US President Joe Biden, President of Brazil Luiz Inacio, President of Argentina, Alberto Fernández and Prime Minister of Italy Giorgia Meloni. pic.twitter.com/fPpm77ONax

— ANI (@ANI) September 9, 2023
The Alliance will be aimed at boosting cooperation and heightening the use of sustainable biofuels, even in the transportation sector. It will focus on bolstering markets, facilitating global biofuels trade, developing concrete policy lesson-sharing and providing technical support for national biofuels programs worldwide.
It shall work in collaboration with and complement the pertinent existing regional and international agencies as well as initiatives in the bioenergy, bioeconomy, and energy transition fields more extensively, including the Clean Energy Ministerial Biofuture Platform, the Mission Innovation Bioenergy initiatives, and the Global Bioenergy Partnership (GBEP).
The alliance will work towards enriching global collaboration and partnership for the accelerated adoption of biofuels by recognising global best practices for the development and deployment of sustainable biofuels and bioproducts. Nineteen countries agreed to stand with India as initiating members of the Global Biofuels Alliance.
Meanwhile, External Affairs Minister S Jaishankar, while addressing a joint press conference on Saturday, said that the declaration aims at accelerating progress on Sustainable Development Goals and has hence come up with an action plan.
"The declaration the leaders have agreed on today focuses on promoting strong, sustainable, balanced and inclusive growth. It seeks to accelerate progress on SDGs and has come up with an action plan accordingly," the minister said.
"It envisages a green development pact for a sustainable future, it endorses high-level principles on lifestyle for sustainable development, voluntary principles of hydrogen, the Chennai principles for a sustainable resilient blue economy and the Deccan principles on food security and nutrition among others," he added.
(With inputs from the agencies)

recommended stories
recommended stories
WATCH WION LIVE HERE
You can now write for wionews.com and be a part of the community. Share your stories and opinions with us here.
Related posts