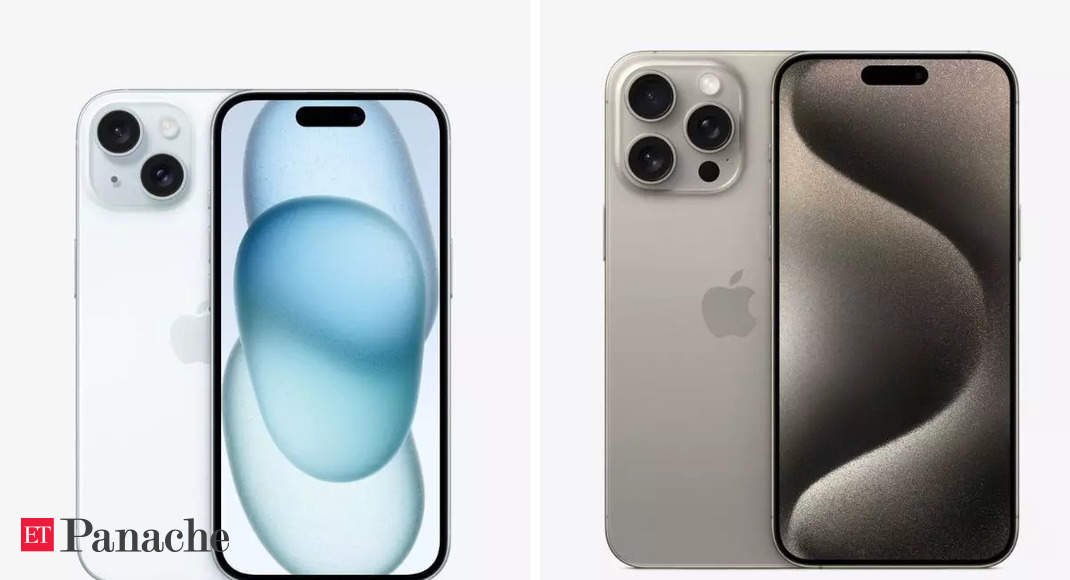 The wait is finally over as ahead of the 2023 festive season, Cupertino-based tech giant Apple has revealed its flagship smartphone line-up, the iPhone 15 series.
These devices not only boast a sleek titanium body and a host of innovative features but also come at prices that are bound to turn heads.
Apple's Budget Options
iPhone 15
128GB: Rs. 79,900
256GB: Rs. 89,000
512GB: Rs. 1,09,900
iPhone 15 Plus
128GB: Rs. 89,900
256GB: Rs. 99,900
5126B: Rs. 1,19,900
Unlike its predecessor, the iPhone 15 series sports a 48-megapixel wide-angle camera with a 2um quad-pixel sensor and an f/1.6 aperture as its primary shooter.
Additionally, both the iPhone 15 and iPhone 15 Plus are powered by Apple's cutting-edge A16 Bionic chip, previously featured in the iPhone 14 Pro models.
RECOMMENDEDSTORIES FOR YOU
Apple Event 2023 | iPhone 15 & 15 Pro series with USB-C ports to Watch 9 & Ultra 2: Key highlights
Apple 'Wonderlust' event saw the unveiling of the iPhone 15 series, Watch Series 9 and Apple Watch Ultra 2. While the Watch Series 9 comes with a faster S9 chip, the iPhone 15 Pro comes with Titanium construction, an upgraded A17 Pro chip and USB-C charging port! Here are the majopr announcements from Apple's flagship event. Watch!
For The Flagship Experience
iPhone 15 Pro
128GB: Rs. 1,34,900
256GB: Rs. 1,44,900
5126B: Rs. 1,64,900
1TB: Rs. 1,84,900
iPhone 15 Pro Max
256GB: Rs. 1,59,900
512GB: Rs. 1,79,900
1TB: Rs. 1,99,900
At the heart of these impressive iPhones is the powerful A17 Pro chip, which Apple proudly claims outperforms even some high-end PCs.
This chip, coupled with a redesigned GPU, holds the promise of delivering a gaming experience that could redefine what users can expect from a mobile device.
One of the standout features of these new iPhones is the introduction of the 'Action Button'. This button replaces the conventional ringer switch and is highly customizable. Users can configure it to run shortcuts, access accessibility features, activate the camera, or even turn on the flashlight.
iPhone 15 Series Availability
All of the iPhone models, which include the iPhone 15, iPhone 15 Plus, iPhone 15 Pro & iPhone 15 Pro Max, are set to be available for pre-order starting September 15, with the official release date scheduled for September 22. Also with the festive season approaching, discounts are expected in the near future.
Related posts