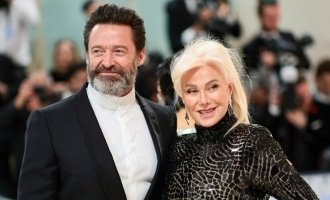 Hugh Jackman and Deborra-Lee Furness Announce Separation After 28 Years
ravik1910, 2 weeks ago
0
2 min

read
3
After 28 years together, Wolverine star Hugh Jackman has split from his wife of 26 years, Deborra-Lee Furness. The two met in 1995 on the set of the Australian series Corelli but didn't tie the knot until a year later. They are parents to two kids: Oscar was born in 2000, and Ava arrived in 2005. People who had followed their romance throughout the year were shocked when they announced this news on social media as they attended various events side-by-side, including the Met Gala in May and Wimbledon in July.
In a joint statement, Jackman and Furness made known their appreciation for nearly three decades of marriage and announced they are separating to concentrate individually on self-development while stressing their commitment to family. They ask for privacy as they make this transition, and this is the exclusive message from both of them on this matter.
In April, on their 27th wedding anniversary, Jackman expressed his love and gratitude to Furness online. Jackman is famous for the Wolverine series of movies and currently works as an actor in Deadpool 3, which will release on May 3, 2024, though it may get delayed depending upon strikes in the film industry. He stated that he had taken the decision himself to reprise his role as Wolverine in Deadpool 3.
Although, he says, with a hectic schedule like his, Jackman makes an effort to be ready for the role despite all challenges. He therefore mentions fitness programs and says that this time around he is motivated by competing against Ryan Reynolds, who played Deadpool. Directed by Shawn Levy, Deadpool 3 will have returning characters amidst new ones, as promised by its acolytes, so it should make for an exciting watch.
Â
Related posts